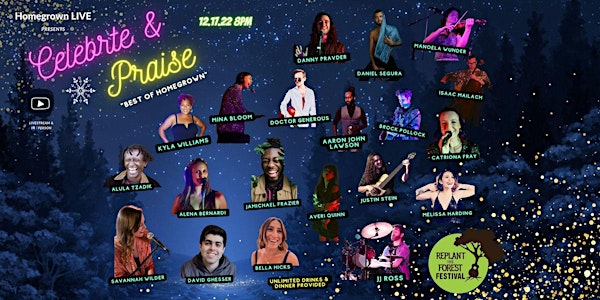 Homegrown LIVE Presents "Celebration & Praise"
The team at Homegrown is grateful to present CELEBRATION & PRAISE: The Best of Homegrown! 11th and final monthly concert for 2022
When and where
Location
Homegrown Recording 4239 West 58th Place Los Angeles, CA 90043
Refund Policy
Contact the organizer to request a refund.
Eventbrite's fee is nonrefundable.
About this event
The team at Homegrown Recording is grateful to present CELEBRATION & PRAISE: The Best of Homegrown! This is our 11th and final monthly concert for 2022 🌈💥🌟🌲😻🙃✨🎶🎉🥳
We will be featuring artists that have been with us throughout the year creating records at the studio, participating in group writing and recording sessions, and performing in our monthly shows. We will also be featuring new artists and collaborators. 🧐🗣🎙🎼🎧🥁✨🤩🎨
Musical programming will include homegrown original crowd favorites as well as brand new celebratory mash-ups, medleys, and holiday tunes that represent the variety of cultures and religions of our community. 🌎
Together we will create a peaceful vibration of love, harmony, gratitude, & joy 🌟🌲✡️🇲🇽🙏🏽❄️🌠🌐🎼
We are in partnership with Replant the Forest Festival for this concert 🌳 @replanttheforest, supporting and uplifting their mission to bring together music and entertainment with direct hands-on environmental action - empowering, educating, and engaging people in restoring our planet. 🤝🏽🌎🍃
CAST ANNOUNCEMENT 🌠
We are grateful to announce our incredible cast of artists for this month's Homegrown LIVE show 🎬
✨Kyla Williams @kylapagewilliams (singer/performer)
✨Savannah Wilder @sav.wilder (singer, songwriter, pianist)
✨Jamichael Frazier @jamichaelfrazier (flutist, pianist)
✨Danny Pravder @dannypravder (composer, producer, pianist)
✨Alena Bernardi @alenabernardi (singer/songwriter, pianist)
✨Catriona Fray @catrionafray (singer/songwriter, guitarist, pianist)
✨JJ Ross @jjrossondrums (drummer, percussionist)
✨Mina Bloom @magicalminabloom (singer/songwriter, pianist)
✨Justin Stein @just.in.stein (singer, bassist, guitarist, composer)
✨Manoela Wunder @wunderlandmusic (singer/songwriter, violinist)
✨David Ghesser @davidghesser1 (composer, songwriter, pianist)
✨Averi Quinn @averiquinnmusic (singer, songwriter, choreographer)
✨Doctor Generous @doctorgenerous (singer/songwriter)
✨Aaron John Lawson @drdhd80 (singer, performer)
✨Bella Hicks @bellahicks (singer, songwriter, pianist)
✨Isaac Mailach @isaacmailach (cellist, composer)
✨Melissa Harding @melissakharding (singer, songwriter)
✨Daniel Segura @dan_sing_dan (writer, singer, songwriter)
✨Brock Pollock @brockpollock (songwriter, bassist, guitarist)
🪄Producers: @alenabernardi @catrionafray @dannypravder @isaacmailach
🎼Musical Arrangements/Music Direction: Mina Bloom @magicalminabloom
🎨 Creative Producer: Daniel Segura @dan_sing_dan
🎞 Stage & Film Director: Sean Alexander Bart @seanabart
🎥 Director of Photography: Brenton Cooper @brentonshoots
🚨Production Designer: Matt Steele @hartcretur
👨🏻‍💻Technical Director: Christopher Lee @endlessverse
🫒Catering: www.greenolivelb.com
👨🏻‍🍳Cook/Patron: Brian Fray @fraylaw
Home Cooked Dinner/Unlimited Drinks 🥗🍲🌯🚪
Doors Open at 6:30pm 🌠❄️🌲🙌🏽🕎
Show Theme: Celebrate & Praise 🌟
🎟$20 Livestream
🎟$35 PreSale Tickets In Person
🎟$40 tickets at the door