Description
REGISTRATION OPEN NOW!
As one of the longest-running fatherhood events in the country, HomeDadCon -- aka the Annual At-Home Dads Convention -- is now in its 23rd year and is attended by some of the most involved fathers in the country to network, support, and learn from each other. It also attracts renowned authors, researchers and experts on parenting and child behavior as speakers, offering a chance for professional development, specifically for dads. The unique and welcoming atmosphere of this low-pressure event is organized by volunteer dads, for dads, all who stay home with their kids, like you!
What Does Registration Include?
The registration fee includes all official Convention programming, as well as meals during official activities, an exclusive HomeDadCon 2018 t-shirt, and other goodies from our sponsors (TBA). Those who pay NAHDN Membership dues as part of their registration also are entitled to voting rights during our Annual Meeting, when members of the NAHDN Board of Directors are elected. If you are interested in running for a Board position or finding out more about what is involved, please contact info@athomedad.org.
Where Should I Stay?
The Embassy Suites Lake Buena Vista Resort is both our event venue and official hotel, and we highly recommend staying there.

Embassy Suites is offering a special discount HomeDadCon rate of $125/night for a double occupancy guestroom. Additional guests are $15/night per person.
Please be sure to book your room as soon as possible, as space is limited -- especially if you are arriving in Orlando early! The special HomeDadCon rate ends August 15th, 2018.
Why You Should Stay At The Official Hotel (even if it costs a little more than an alternative):
FREE BREAKFAST! Attendees to HomeDadCon who stay at the official hotel have free breakfast available to them. Stay elsewhere, and you're on your own for breakfast.

It supports the NAHDN: We are required to fill a large percentage of the rooms blocked out for our event, and if we do not meet that number then the organization is responsible to cover the rest. Staying at the official hotel helps ensure we can use event revenue towards putting on an amazing event rather than covering such extra costs.

It's easier: Staying at the same hotel where the event is taking place gives you several advantages all weekend, including eliminating any travel time or expense from hotel to venue, and additional time to network with other attendees.

Exclusives: More info TBA!
Of course, if you would like to make other arrangements you are free to do so.
When Should I Arrive?
The "core programming" of HomeDadCon 2018 starts the evening of Thursday, September 13th, and ends late afternoon on Saturday, September 15th.
To take full advantage of ALL activities before and after the "core programming", we suggest planning to arrive in Orlando by noon on Thursday the 13th, and stay until 8pm on Saturday the 15th.
Depending on where they are traveling from, many attendees will be arriving on Wednesday, September 13th, and there will be some casual activities arranged for those attendees. Most attendees will use Sunday, September 17th as their travel home day, in order to have the opportunity for more socializing and exploring of the Orlando area, or to simply make travel easier and less rushed. You do what works best for you!
Sponsorship Opportunities
Interested in becoming a Sponsor for HomeDadCon? We'd love to talk to you about how your brand can be involved in making HomeDadCon 2018 the best year yet. Questions?
Please email sponsor@athomedad.org for more information or to request a Sponsorship Packet.
Scholarship Program
Want to come to HomeDadCon 2018 but unsure how to make it work financially? If you (or someone you know) need financial assistance to help you attend, please apply for a Brian Dickson Memorial Scholarship at our convention website, HomeDadCon.org.
Refund Policy
A full refund may be requested up to 30 days before the Convention.
Be sure to post about the convention on social media using the hashtag #HomeDadCon!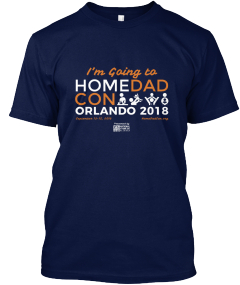 I'm Going to HomeDadCon 2018!
$19.99
We partnered with Teespring to create some awesome merchandise for this event. Show your support and look good wearing it. Check it out!