HomeDadCon 2016 - The 21st Annual At-Home Dads Convention

Friday, October 7, 2016 at 6:00 PM

-

Sunday, October 9, 2016 at 5:00 PM
Event Details

October 7-9, 2016
Registration now open! 
As one of the longest-running fatherhood events in the country, HomeDadCon -- aka the Annual At-Home Dads Convention -- is attended by some of the most involved fathers; who network, support and learn from each other.  It also attracts renowned authors, researchers and experts on parenting and child behavior as speakers for your professional devleopment. The unique and welcoming atmosphere of this low-pressure event is organized by dads for dads, all who stay home with their kids, like you!
What Does Registration Include?
The registration fee includes the Friday night Meet-and-Greet/Welcome Party; Saturday breakfast/lunch/dinner, and Sunday breakfast and lunch, as well as snacks during the Convention. You will also become a registered member of the National At-Home Dad Network by registering for the Convention, and have voting rights during our Annual Meeting, when members of the NAHDN Board of Directors are elected. If you are interested in running for a Board position, or finding out more about what is involved, please contact info@athomedad.org.
Where Should I Stay?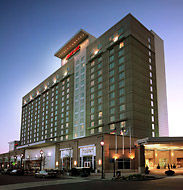 Our official hotel this year is once again the Raleigh Marriot City Center, who are offering a special Convention Rate of $154.00USD/night if booked before September 15th.
>> Book your room at: http://tinyurl.com/marriotthomedadcon2016 <<

Please be sure to book your room early, as time and space is limited!
We highly encourage staying at the official hotel, as the close proximity to the event venue and other attendees make the entire weekend even better. Of course, if you would like to make other arrangements you are free to do so.
When Should I Arrive?
The "core programming" of HomeDadCon 2016 starts the evening of Friday, October 7th, and ends in the afternoon of Sunday, October 9th.
To take full advantage of ALL activities before and after the "core programming", we suggest planning to arrive in Raleigh by noon on Friday the 7th and stay until 6pm on Sunday the 9th.
Many dads will be arriving on Thursday, October 6th, and/or staying until Monday, October 10th, in order to have the opportunity for more socializing and exploring of the Raleigh-Durham area, or to simply make travel easier and less rushed. You do what works best for you!
FRIDAY AFTERNOON ELECTIVE ACTIVITIES include: First Aid/CPR Class (FREE!), Homebrew Class ($20), Photo Walk of Raleigh ($25). Please be sure to register for those you are interested in attending!
For more details on travel, hotel and schedule, please visit http://HomeDadCon.com
Scholarship Program
NOTE: The deadline to apply for 2016 Scholarships has now passed.
Want to come to HomeDadCon 2016 but unsure how to make it work financially? If you (or someone you know) need financial assistance to help you attend, please apply for a Brian Dickson Memorial Scholarship at http://athomedad.org/convention/scholarships. 
Refund Policy
NOTE: The deadline to request a full refund has now passed.
A full refund may be requested up to 30 days before the Convention.
Be sure to post about the convention on social media using the hashtag #HomeDadCon!
When & Where

Marbles Kids Museum
201 E Hargett Street
Raleigh, NC 27601


Friday, October 7, 2016 at 6:00 PM

-

Sunday, October 9, 2016 at 5:00 PM
Add to my calendar
Organizer
The National At-Home Dad Network is a 501(c)(3) nonprofit dedicated to providing advocacy, community, education, and support for families where fathers are the primary caregivers of their children. Our purpose is to empower fathers and champion a culture that recognizes them as capable and competent parents.