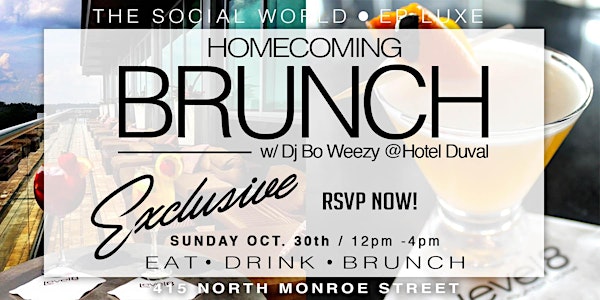 Homecoming "Exclusive" R&B BRUNCH
Homecoming "Exclusive" R&B BRUNCH
When and where
Location
415 N Monroe St 415 North Monroe Street Tallahassee, FL 32301
About this event
The Social World + EP Luxe presents Famu Homecoming "Exclusive" R&B Brunch – Join Us for some great food, cocktails & an unmatched "Vibe" featuring Famu's own Dj Bo Weezy and friends. RSVP NOW!
*Sunday October, 30th '22
Hotel Duval – Horizon Grand Ballroom | Level 8 Lounge & Patio
*12pm - 4pm / Brunch Buffet Style & Gourmet Stations served from (12:15pm - 3:15pm)
*Dress Code - Trendy & Casual
Age Group: 25+
Views: Roof Top / Ballroom / Lounge
*Valet Parking Available (Not included in Ticket Price)
*Street Parking Limited
We have 8 options to serve your brunch needs.
Rise & Shine / Early Bird General Admission Entry (Includes Brunch & General Admission Seating) Location: Bar seating + assigned indoor seating. *Arrive early and receive a complimentary mimosa. No Refunds ($40) + tax
#1 – General Admission Entry (Includes Brunch & General Admission Seating) Location: Bar seating + assigned indoor seating. *Arrive early and receive a complimentary mimosa. No Refunds ($50) + tax
#2 – Exclusive Reserved Table for (2) – Includes Brunch & Complimentary Bottle of Champagne at your table for custom mimosas. *Table service available. Outside seating upon request. No Refunds / ($125) + tax
#3 - Exclusive Reserved Table for (3) – Includes Brunch & Complimentary Bottle of Champagne at your table for custom mimosas. *Table service available. Outside seating upon request. No Refunds / ($175) + tax
#4 - Exclusive Reserved Table for (4) - Includes Brunch & Complimentary Bottle of Champagne at your table for custom mimosas. *Table service available. Outside seating upon request. No Refunds / ($225) + tax
#5 - Green Couch Section / Next to the Dj (4 people) - Includes Brunch & (1) Complimentary Bottles of Champagne at your table for custom mimosas. *Table service available. Inside only. No Refunds / ($275) + tax
#6 - Exclusive Couch Section for (6) - Includes Brunch & (2) Complimentary Bottles of Champagne at your table for custom mimosas. *Table service available. Outside seating upon request. No Refunds / $300) + tax
#7 - *Homecoming Group Section (10 -15 people) Call for price / negotiable: Includes Brunch & (3) Complimentary Bottles of Champagne at your table for custom mimosas. *Table service available. Outside Section. No Refunds
*Last Chance General Admission Tickets: (Includes Brunch & General Admission Seating) Location: Bar seating + assigned indoor & outdoor seating. *Arrive early and receive a complimentary mimosa. No Refunds ($60) + tax
Homecoming 2022 "Exclusive" R&B BRUNCH