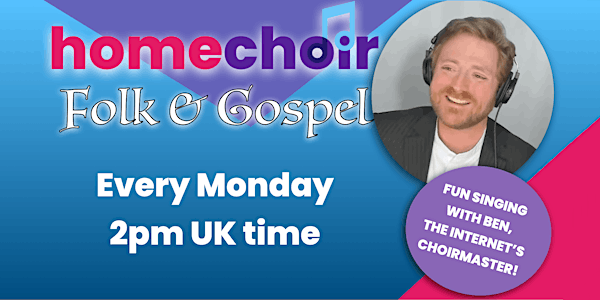 Homechoir Folk & Gospel Music Mondays - free online choir, open to all!
Join Ben, the Internet's Choirmaster, and Homechoristers from around the world for a free session full of folk fun and stirring spirituals!
About this event
Homechoir is a community of singers who join Ben England BEM (the Internet's Choirmaster) on YouTube at 2pm every Monday, Wednesday and Friday afternoons and 11am Sundays (UK time) for singing, fun and camaraderie.
On Mondays we sing folk songs from lots of different countries and cultures around the world or gospel/spiritual songs.
Here is an example of a recent Folk Monday session:
And here is a recent Gospel Monday session:
About Homechoir
We are Homechoir - a free digital choir with over 3,200 subscribed members. We are open to all and dedicated to sharing music and friendship!
Homechoir is a new way of looking at learning music. You don't need to be able to sing well or at all to take part – the teaching is one-way. You watch and sing along with Ben if you can, and are invited to take part in the live text chat with everyone else around the world. There is a vibrant and friendly social community among the choir.
If you can't join in live, then you can enjoy the music-making at any time as all our sessions are recorded and available for you to watch when you can, as often as you like.
You don't need to be able to read music, and where scores are needed, Ben will display them on screen to help you learn. As well as traditional choir and classical pieces, Ben teaches a huge range of other songs including folk, sea shanties, gospel, children's songs and silly songs.
A former Advanced Skills Music Teacher and Director of Music in an OFSTED Outstanding school, Ben also teaches music theory, history and composing as part of Homechoir's Deep Dives.
Why not come along and give us a try? We are a very friendly choir with a warm welcome and are open to all.
For more information, please visit our website, read our FAQ page and check out our previous and upcoming broadcasts on our YouTube channel!