Home Visitor CDA Credential Class (Fast Track) - Nevada

Tuesday, August 7, 2018 at 10:00 AM

-

Monday, August 20, 2018 at 3:00 PM (PDT)
Event Details
This course is a one week intensive designed to support Home Visitors Complete their CDA Process. Great for individuals currently trained using Parents As Teacher Curriculum with documented Hours.80% of process will be completed during our this week. Additional out of class assignments will be required.
TIPS JumpStart Support program aids Home Visitors in meeting criteria of CDA Credential in less time than a traditional CDA Training Program.  This is a live instructor lead webinar based program geared towards Home Visitors for Programs with home visitation components to enhance the quality of providing direct services to children and families. Course content supports collaboration readiness, implementation of activities, Developmentally Appropriate Practice, Parent Advocacy, Cultural Competence,  Special Education Law, CSEFEL Pyramid Model and NAEYC Overview along with the basic understanding of Head Start history and standards.  
Enrolling in this course will provide home visitors with our hands-on, innovative class for students of every background. Our qualified and experienced teachers serve as facilitators of the learning process. Instead of simply lecturing, they guide students by helping to make sense of course materials, encouraging them to ask questions and explore solutions, and promoting the use of resources outside of the classroom.
​
CDA JumpStart Support Program™: Tuition: $599 
A CDA Help Training In The Bag™ and learning aids

120 Formal Education Online Courses CEUs

TOCLASS™ Learning Management System

Instructional support from our experienced Instructors. All of the Instructors in this program Meet Educational Requirements as approved by the CDA Council

Access 24/7 to TOCLASS™, our online campus, plus immediate membership in the Child Development Associate (CDA) academic group with EduForums™ and EduChats™.

Your personalized online student homepage and learning portal

Course Integrated Portfolio Support

Course Integrated Assessor Recommendation Tools

Additional resources such as portfolio consultants, Certified Trainers, Early Interventionist, Life Coaches and more**
 The comprehensive plan**:
Includes the basic plan plus a dedicated support person available for you and/or your center with an individualized action plan to fit the need of the individual provider(s) based on personal timeline and goals as a result of a full needs assessment including:
ability to retain information to meet projected goals

written and verbal communication

confidence with interaction

CheckPoints™

14 Instructional Webinars with Live Instructor

1 on 1 Weekly Consultation Available

120 Hours in less than 30 Sessions

6 College Semester Course Hours* ( 3 Semester Hours Field Exercise and 3 Semester Hours The Infant and Toddler)

Home Visitation Preparation Courses** (Support EHS CCP and Expansion Home Visitors, Directors and Coordinators)
 © 2017 by TIPS for Child Care Institute, Inc
This readiness process is a vocational experience, similar to licensing and professional technology careers. The readiness exhibited will vary in time for each individual candidate based on their ability to turn in assignments meeting instructional criteria, grasp foundation and the foundation of their individual industry knowledge base upon entering into a class environment.
Save This Event
When & Where

Las Vegas Marriott
325 Convention Center Dr
Las Vegas, NV 89109


Tuesday, August 7, 2018 at 10:00 AM

-

Monday, August 20, 2018 at 3:00 PM (PDT)
Add to my calendar
Organizer
Fast Track CDA Credential Training Courses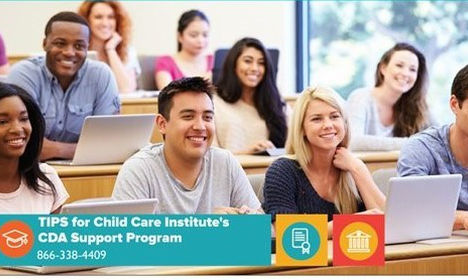 Earn Your CDA Credential Fast 
One Week CDA Credential Classes Available 
 Call 866-338-4409 or email sgreen@tipsforchildcare.com
 © 2017 by TIPS for Child Care Institute, Inc
We are a trusted global learning solution, TIPS for Child Care Institute, Inc., is the leading micro-credential company for early educators across the world. We are a Early Care and Learning Vocational Institute, we house both a cyber school and traveling training institute. Our professional development curriculum integrates Theory In Practice strategies in every course we deliver. Our unique delivery through enriched webinars ensure early learning practitioners leave with top industry trends, application strategies, global early learning standards while building foundation and continuing education opportunities that are affordable for all practitioners. Our technology and institutes provide a flipped classroom  experience that is student centered that adult learners engage in each component sure to retain and utilize all information obtained. The environments we provide for our adult learners cultivate excellence, foster resourcefulness and harness professionalism. Since 2003 we have provided over 100,000 continuing education certificates to early learning practitioners in areas of growth and development, health and safety, differential learning practices, cognitive theory, aesthetic processing, project based learning, developmentally appropriate practices, and responsiveness.  We are the affordable and accessible solution online or at your location for your staff call us today!
Home Visitor CDA Credential Class (Fast Track) - Nevada