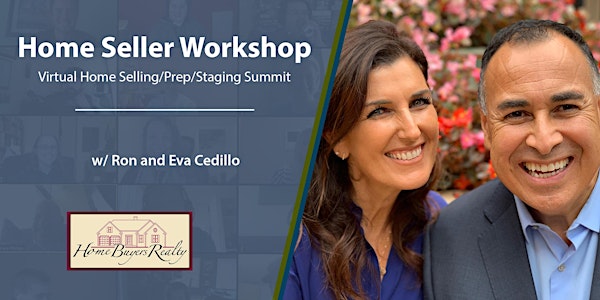 Home Selling Seminar - How to Get Top Dollar In Uncertain Times
"You'll learn 3 ways to add THOUSANDS of DOLLARS to your East Bay home sale in an uncertain market and what repairs to make (or avoid)"
About this event
*This is a live virtual workshop via teleconference/webinar from your phone, tablet, or computer for safety and convenience.
Urgent for Homeowners in East Bay
Instructors: Ron & Eva Cedillo - Ron and Eva are Brokers/Owners of Home Buyers Realty for over 20 years. Selling thousands of homes over the course of their career. Recommended by Kevin Harrington of Shark Tank, Gary LeVox of Rascal Flatts and DJ Walker of KAT Country. Their aggressive marketing has made them leaders in Real Estate in the Central Valley and a frequent contributor to media stations for their take on the Real Estate market. 94 reviews on Zillow 5/5 stars | Rated 5/5 Stars on Yelp | 46 Top Producing Agents selling over 400 homes per year | Ron and Eva personally sell over 150 homes per year with their aggressive marketing campaigns.
*Limited to 25 Attendees.
Need to speak with us now about an offer on your home? Call us at (209) 834-2680. We're here to help, and we look forward to seeing you at the workshop live here on this page.
Dear Homeowner here in East Bay -
Are you thinking about selling your home?
It's overwhelming now.
The current pandemic is tragic and does not help. We're seeing fluctuating home price trends all over the place with volatile mortgage rates.
People are afraid to move, and rightfully so, with our immediate public health crisis. (Our hearts goes out to all the people on the front lines of this and everyone else affected).
You also see many new home selling options (instant offers, sell 'as-is", auctions, discount brokerage, luxury marketing, and more).
A few companies who buy your home directly without any showings just recently suspended their activities.
You even have options now to get a loan to remodel your home before you sell and the government, along with private companies, are stepping in to suspend mortgage payments.
What option is best for you? How do you navigate all this?
We'll help you make that decision.
Even with "shelter in place" and all that's going on, We can assure you real estate is still selling. We will share the latest stats, facts, and trends from our East Bay MLS with you in our workshop.
Homes can also be sold safely with minimal human contact - in compliance with the law - without people walking through your home in groups.
Virtual tour technology, video conferencing, instant offers and more are here to help us.
With so many questions, and so much uncertainty, we wanted to step up and educate you on everything you need to know to sell your home that works locally from experience.
If this sounds like you, we encourage you to attend our free workshop:
Are you overwhelmed selling your home with all the "stuff" you've saved over the years?
Are you concerned about repairs from the home inspection, or what repairs to make upfront?
Do you want to know what you need to do to get your home ready for today's buyer?
Are you curious what price to your list home to get top dollar while selling quickly?
Curious to know the current market trends with the best time to sell here locally?
Are you concerned about paying your mortgage or selling your home safely during the pandemic?
Given the state of affairs to protect the public, this is a "virtual" teleconference/webinar you can attend from your tablet, computer, or phone. You'll get the link when you register.
We've been selling real estate for 20 years and have helped 3,500+ homeowners sell their home.
We'll show you exactly how you can sell your home for the most money in the current environment. That's either with an agent or on your own. You don't need to hire us.
You'll learn all our best-practices (and pitfalls to avoid) which can mean the difference of tens of thousands of dollars on your final sales price.
We've seen it. We have the facts to back it up.
In short, it's really all about (1) high-end photos, (2) a marketing plan, and (3) someone guiding you along the way.
When you attend the workshop, we'll have a neighborhood market report prepared for you along with my suggested price range to list your home at today. This is our gift to you.
Here's an overview of the material we will cover with our time together:
How to price your home based on what's currently for sale to get the most money
The most common pricing pitfalls, and how to properly price to get over asking price
Market insight so you have context to make smart decisions to avoid missing out on offers
Tips for negotiation and how to handle the inspection to reduce hassles
The best online marketing plan to attract the most buyers to your home as possible
How to stage your home so it stands out and looks the very best it can
A simple way to get rid of all the "stuff' from over the years in your home
How to create competition among buyers to drive up your price (we call it a "blitz")
How to choose a photographer (and what order to display your photos online for the most views)
How to make the most of the first 2 days your home is on the market (most important!)
My simple fixes that cost very little but add considerable value to your home sales price
How to time a sale correctly if you need to buy and sell at the same time (no double mortgage payment)
BONUS: We're sure you already know a real estate agent. Hiring one, if you do, is a business decision. It can cost you thousands of dollars if your sale is mishandled. You likely already know a real estate agent, maybe even a friend or family member. It can feel like you're trapped. You don't want to risk your personal relationship if your deal goes south, and you don't want to miss out on hiring an agent who you know can get you more money. We'll share our insights during the workshop on how to handle this delicate situation. We will even make the call for you should you decide to hire us.
The bottom line is We can help you sell your home for the most amount of money in the least amount of time especially in our current state of uncertainty along with protecting public health.
If you're thinking about going into one of the largest transactions of your life, come join us for this workshop. It's free. There's zero catch.
You can then make the best decision for yourself, your family and your finances.
We're here to guide you.
Join Zoom Meeting
https://us02web.zoom.us/j/81337724224?pwd=U1pKZ3pqQ3VDTVd5SlNCUEN3Y2VCZz09
Meeting ID: 813 3772 4224
Passcode: 058003
We look forward to meeting you!
Submit your RSVP now.
See you there!
Ron & Eva Cedillo
(209) 834-2680
ron@homebuyersrealty.com
About: Ron & Eva Cedillo - Ron and Eva are Brokers/Owners of Home Buyers Realty for over 20 years. Selling thousands of homes over the course of the career. Recommended by Kevin Harrington of Shark Tank, Gary LeVox of Rascall Flatts and DJ Walker of KAT Country. Their aggressive marketing has made them leaders in Real Estate in the Central Valley and a frequent contributor to media stations for their take on the Real Estate market. 94 reviews on Zillow 5/5 stars | Rated 5/5 Stars on Yelp | 46 Top Producing Agents selling over 400 homes per year | Ron and Eva personally sell over 150 homes per year with their aggressive marketing campaigns
"Eva, Ron and Leilani were a godsend when my husband and I were ready to purchase our home. My husband and I were looking at homes, in the same way that you look at puppies in a storefront window. We didn't anticipate falling in love with a home we walked through, and had no idea what to do when we agreed that we both couldn't live without it. In comes Home Buyers Realty. They graciously guided us through the home buying process, and were even able to help divert our escrow from disaster when our lender fell short of competency, more than a handful of times. We didn't know it 'til the deal was closed, but there were multiple times throughout our escrow process where the HBR team fought for us tooth and nail behind the scenes, so that we wouldn't have anything to worry about. Along with that, they are great at answering any and all questions you may have, and with first time buyers such as ourselves, there was some...interesting inquiries. Thanks again to this amazing team, we would not be in our dream home without their swift action and professionalism."
"Ron really cares about his customers as people first and looks after their real estate needs. He is willing to take on difficult real estate challenges and figure out a way to make the deal, and will find creative ways to help customers sell their home. I moved from Dublin, CA to Princeton, NJ for work related reasons and Ron and his Home Buyers Realty Team took care of selling my home and helped me find an agent on the other side of the country. Wish Ron Cedillo lived closer to Princeton, NJ. I fully endorse Ron as a true real estate professional who listens to your concerns and cares about getting you positive results."
"Eva, Ron and Leilani were a godsend when my husband and I were ready to purchase our home. My husband and I were looking at homes, in the same way that you look at puppies in a storefront window. We didn't anticipate falling in love with a home we walked through, and had no idea what to do when we agreed that we both couldn't live without it. In comes Home Buyers Realty. They graciously guided us through the home buying process, and were even able to help divert our escrow from disaster when our lender fell short of competency, more than a handful of times. We didn't know it 'til the deal was closed, but there were multiple times throughout our escrow process where the HBR team fought for us tooth and nail behind the scenes, so that we wouldn't have anything to worry about. Along with that, they are great at answering any and all questions you may have, and with first time buyers such as ourselves, there was some...interesting inquiries. Thanks again to this amazing team, we would not be in our dream home without their swift action and professionalism."