Description
Join your favorite Western New York agency for our celebration of Fair Housing Month! This year's theme is: Fair Housing Equals Opportunity!
Kick things off with us on Saturday, April 1, 2017 at Joe's Crab Shack (4125 Maple Rd, Amherst, NY 14226) for lunch or dinner! Show your waiter our flyer (provided below), and a portion of the proceeds will come back to HOME! Oh, and guess what? THE BAR IS INCLUDED! What's better than being able to donate while you drink and dine? Make it a family night or a date night! For more information: https://www.facebook.com/events/416207505401839/permalink/416209478734975/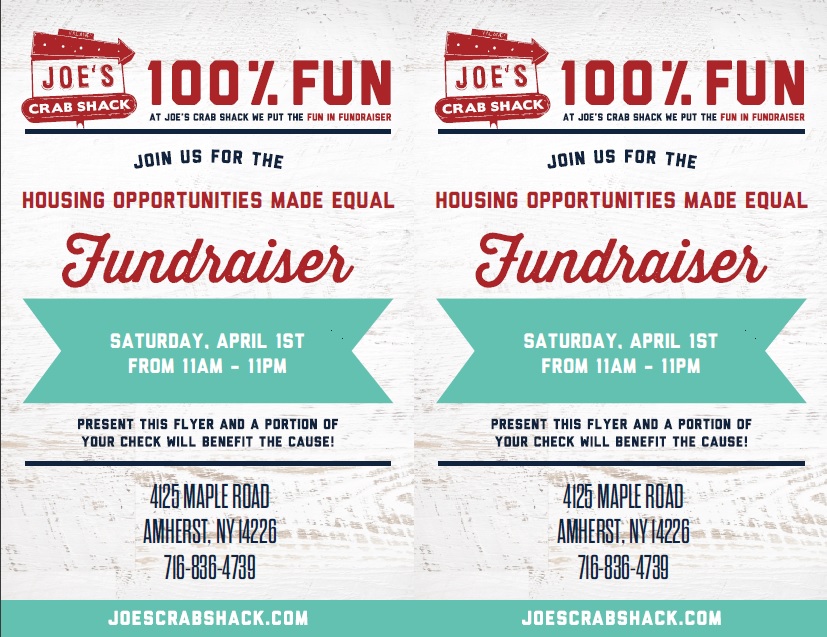 On Wednesday, April 5, join our Education Specialist at Hamburg's Department of Community Development (6122 South Park Avenue, Hamburg, New York 1407) for housing office hours from 3:00 - 5:00 PM. If you are a tenant or landlord with questions about housing, feel free to drop in for FREE assistance!
At 5:45 PM on Wednesday, April 12, we will be screening the film "America Divided: A House Divided." "America Divided" is a timely and relevant documentary series that explores narratives around inequality in education, housing, healthcare, labor, criminal justice, and the political system. This series is executive produced by Norman Lear ("All in the Family," "Maude") who will be guiding us through the housing inequality uproar in New York City.
On Thursday, April 13 from 3:00 - 5:00 PM, join us for our monthly Landlord Training & Certification course. Learn about proper landlord practices, fair housing law, and proper screening procedures for potential tenants. The fee is $35, and it includes our comprehensive book "A Guide to Landlords' Rights."
Join us on Thursday, April 20 to drink, eat, and celebrate our efforts in advancing fair housing. We are excited to invite you to our annual dinner as we toast to the progress that we have made as well as acknowledge the change that we can all bring. Ticket packages are now available at our website: http://www.homeny.org/54thannualdinner/.
Fair Housing Friday is on April 21 at 5:00 PM! Come join us at our office located at 1542 Main Street for an informal discussion on fair housing, a bit of HOME's history, and a game to test your fair housing knowledge. Snacks will be provided.
On Wednesday, April 21 at 5:00 PM, a Tenant Training will be hosted at HOME's office on Main Street. We invite you to come in and learn about your rights and responsibilites as a tenant.