Sales Have Ended
Ticket sales have ended
Ticket sales are now closed. Thank you for supporting Fairfield County Children's Choir!
Sales Have Ended
Ticket sales have ended
Ticket sales are now closed. Thank you for supporting Fairfield County Children's Choir!
About this event
Fairfield County Children's Choir is excited to present our Winter Concert, which will embrace the spirit of 2020 in an hour-long virtual event! Together but separated, our talented children will sing festive holiday favorites in a fully produced concert that will livestream to quarantine bubbles, families, friends, and far-reaching FCCC fans on Sunday, December 20th @ 3 pm. This creative concert solution encompasses the musical experience for which the Fairfield County Children's Choir is best known.
This concert experience will include:
Five (!!!) virtual choirs highlighting our nearly 300 singers' talent.
Unbelievable solos, duet, trio, and a quartet.
Three sing-alongs of pure holiday fun.
FCCC conductors will be LIVE hosts similar to their roles at our concerts, introduce the songs and share some thoughts.
Concert highlights include our amazing choristers performing their own guitar arrangements and songs they have written; a special performance from three of our student leaders who will collaborate on the modal Wexford Carol, and a quartet of siblings who will perform a holiday favorite together!
Holiday gift idea! Purchase an extra ticket for a grandparent, family, friends, or your FCCC alumni!
If you cannot attend the virtual concert, we welcome your donation to support our non-profit organization. Click the green "Tickets" button and choose to donate.
FAQ
Venue: Online hosted by Eventbrite
Length: The concert is approximately one hour.
Ticket: Ticket price is per household sharing a device. For a family of 4, that is $7.50 per person! Only one household/device can use the unique event link associated with their ticket purchase. If more than one device uses the same "View the Event" link, both devices can be locked out of the concert. Purchase an extra ticket for a grandparent, family, friends, or your FCCC alumni!
Multiple Tickets: When purchasing a ticket as a gift, make sure you use the recipient's email so that they receive their unique concert link. If you use the same email for multiple tickets, multiple confirmations with their own links will come to you to forward to the correct owner. 
How do I watch the FCCC Winter Concert on December 20th? It's easy! On December 20th, before 3 pm, click on the orange/red "View the Event" button in your order confirmation email from Eventbrite. This button is your link to access the concert.
Eventbrite Specific Questions: https://www.eventbrite.com/support/articles/en_US/Troubleshooting/common-questions-for-ticket-buyers?lg=en_US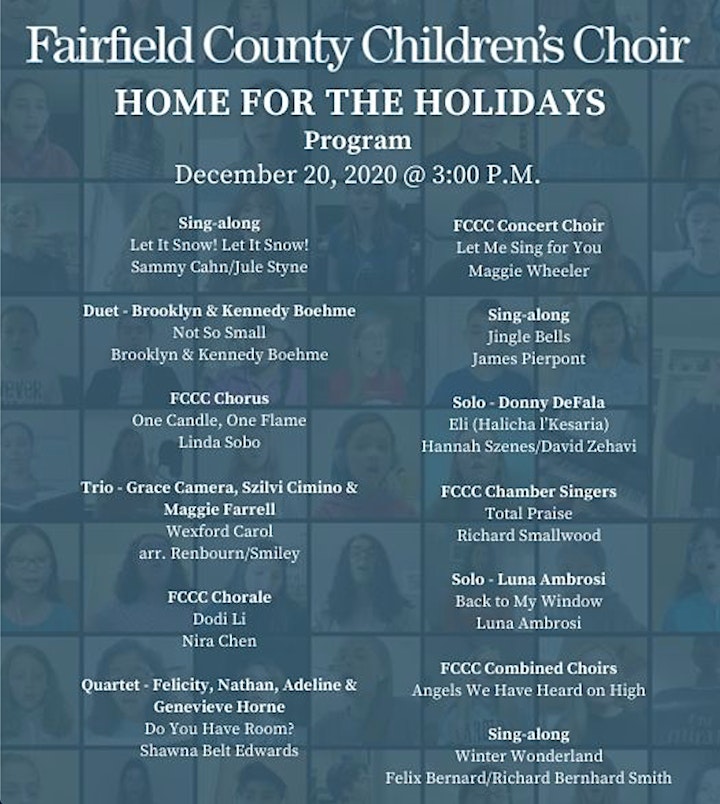 About Fairfield County Children's Choir (FCCC)
The Fairfield County Children's Choir is enjoying our 26th season. Music Director & Founder Jon Noyes conducts the community-based choral program comprising of nearly 300 school-aged children from Fairfield County and beyond, 4th-12th grade. The choir's four tiers: Chorus, Chorale, Concert Choir, and Chamber, allow school-aged children to participate in a musical experience that is challenging, rewarding, and enjoyable. The members learn vocal techniques, choral techniques, music literacy, and appreciation of the music by practicing vocal repertoire.
This award-winning choir performs several times a year locally in Fairfield County, CT; they also perform worldwide. For the first time this year, they will perform a full virtual concert to celebrate the holiday season. Buy your tickets today to witness these marvelous youth and their superb conductors.
To get you excited about our upcoming concert, please enjoy the Fairfield County Children's Choir virtual performance of "Bridge Over Troubled Water," which was viewed over 20K times on social media!