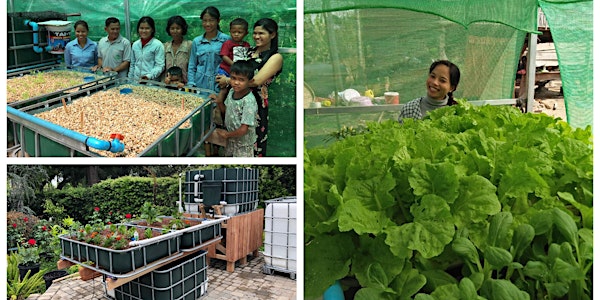 Home & Family Aquaponics: System Unveiling
When and where
Location
Hung Family Home 1057 Old Mill Road San Marino, CA 91108
Description
Are you interested in aquaponics, but never got around to see a real system that you could use at home? Did you ever consider growing some of your own food, or are you just interested in the science of how fish fertilize plants that you can eat? Have you ever wondered how much of an impact this can have in people's lives around the world? Well, come and join us on Saturday, May 11 and you will learn about all of the above!
We're delighted to invite you to the unveiling of Community First's first-ever family aquaponics system outside of Cambodia, right here in the greater Pasadena Area!
This aquaponic system will premiere at the Rotary District 5300 Assembly & Conference in Anaheim this weekend but will be for you to see up-close Saturday, May 11th from 3:30 PM to 5:30 PM at the home of the Hung Family by the Old Mill in San Marino (1057 Old Mill Rd San Marino, CA 91108).
Our systems bring together the best of fish farming and vegetable gardening in a part of the world where mothers struggle so much to feed their children, 40% of them have their growth stunted because of malnutrition.
A Day In the Life: Community First Aquaponics in Sen Sok, Cambodia
Aquaponics provides not only a better, more secure source of nutrition but also a significant economic engine for families who farm only rice once a year. So, on Mother's' Day weekend, come and see this well-engineered food system that empowers mothers in Cambodia around a glass of wine!
The event is free but you must RSVP to attend! We look forward to seeing you there! And if you cannot attend but want to support our work, please consider making a donation today!
Want to see our aquaponic systems in action in the communities of rural Cambodia and learn more about its impact in the lives of the people there? Check our latest videos and come and see us May 11th to meet in person!
In Depth: The Impact of Aquaponics in Sen Sok