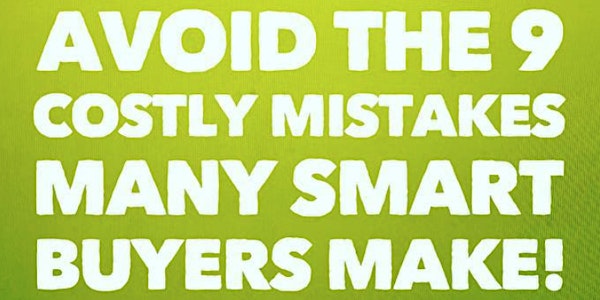 Home & Condo Buyer Class - How To Avoid The 9 Costly Mistakes Many Smart Buyers Make!
When and where
Location
Kemper Pointe Office Bldg Classroom 7870 East Kemper Rd Cincinnati, OH 45249
Description
Being a Home or Condo Buyer, which of these questions apply to you:
Are you tired of helping pay for your landlord's mortgage?

Do you want accurate answers to your questions from true educators?

Can you stand to hear people yelling & TVs/music blaring?

Do you want to start building equity in your own home?

Wouldn't you love to paint & personalize your own home?

Are you sick of scraping ice and snow off your windshield?

Would you like find out the best financial options for you?


If you're planning to start your home search, NOW is the time to start learning! So before you start looking, get 'educated' in the home buying & mortgage process - from start to finish.
Over 1,733 people before you have gained 'insider secrets' and learned valuable money & time-saving strategies from the class. Today's real estate transactions are becoming more complex and, if you're not aware of the pitfalls, it can become a difficult, frustrating and money-draining experience.

The strategies you'll learn in this class will reduce your stress while ensuring you avoid many costly buyer mistakes. This class is designed to build your confidence and arm you with the knowledge to become an informed consumer, so that YOU can make the best decisions for your situation.
You'll learn first hand from two of the area's top consultants, who've been in their respective fields since the 1980's, on how to approach your real estate transaction to your advantage. Understanding the natural chain of events will greatly enhance your negotiating strength and allow YOU to be in control of your situation!
You can walk into the Home Buying Class unsure of where to start, feeling overwhelmed, worried about committing the largest amount of cash you've probably ever invested into one item...2 hours later, walk out feeling confident, knowing exactly how to begin your home search and with simple, fill-in-the-blank forms to guide your smooth, hassle-free, home buying process. Whether this is your first time entering the home buying marketplace or it's been a few years, you're probably a little nervous wondering where you'll end up living. That's OK! You are embarking upon one of the most important investments of your lifetime - a new home.

At this FREE Home & Condo Buyer Class, You'll Learn About...
- What you should NOT buy prior to any home/condo purchase!
- How to figure out what you can afford... without eating PB&Js every night!
- How to BEAT other buyers to HOT, New Listings! Most web sites are dated!
- Why working with more than one Realtor can cost you THOUSANDS $$$!
- How to avoid overpaying, even if you've 'fallen in love' with the property!
- Why a Pre-Qual Letter can be a KISS OF DEATH in losing your dream home!
- How to become aware of COSTLY money traps found in some homes!
- 4 SERIOUS condo questions buyers NEVER ask before making an offer!
- What's So Important that an agent needs the time to have one with you!
- Why saving for a down payment may COST you money in a seller's market!
- How to make your bid STAND ABOVE others in a multiple-offer situation!
- Why seller's agents are HAZARDOUS to your financial wealth!
- The CRITICAL mistakes SMART people make when filling out an offer!
- What closing costs & the rest of the fees are...explained!
- A SIMPLE way to prevent you from buying a "Money Pit"!
- How to select the RIGHT lender - salesperson vs. mortgage consultant!
- A potentially, DEADLY environmental issue, if not stopped and removed!
- How selecting the WRONG home inspector may cost you dearly!
- What to do if you MUST SELL your home before buying another one!
- Why some real estate agents AREN'T inclined to get you best price/terms!
- How to painlessly PAY OFF your mortgage 7 - 10 years EARLY...save CASH!
.......and more!!!

Some Comments From Past Attendees......
"Excellent speakers and very impressive!"


"Well organized! Provided enough information without drowning!"
"We're new buyers and we were able to get our feet wet!"


"Instructors were VERY knowledgeable...also seemed to care about the well-being of attendees!"


"I learned a lot! Many points I hadn't thought of!"
"Very informative! No pressure and very professional! Interesting examples!"


"Speakers were clear and concise! Great open format for discussion!"
"As a first-time buyer, it gave me a better understanding of the home buying process!"
"They spoke in very easy to understand terms!"
"Loved it! They answered our questions and made us more confident in buying our first house!"
"I would have gladly paid money for all of this valuable information!"


"I had gone to another seminar and all they wanted to do was try to sell me stuff."
"You gave us what we wanted with no big sales pitch. Thanks for keeping your word!"


Bring your concerns & unanswered questions to this Free, Home & Condo Buyer class. It's the most helpful, pressure-free, 2 hours you'll spend in this important process.
PLEASE arrive 10 minutes early to register and get settled in...as we will start at 7:00pm SHARP!
See you there,
Dan Weis, Real Estate Advisor - Comey & Shepherd Realtors
Rick Pilger, Mortgage Consultant - Union Home Mortgage
To reach Dan prior to the class, call or text: 513-615-1890
"Educating Home Buyers & Sellers since 1987"
Equal Housing Opportunity