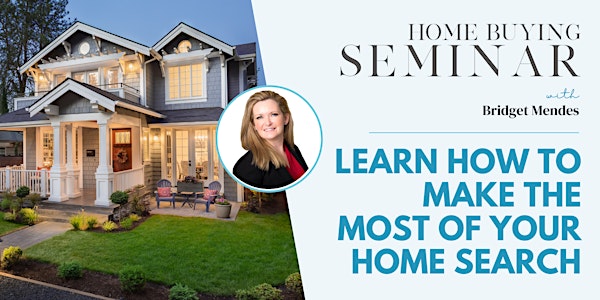 Home Buying Seminar: Make the Most of Your Home Search!
An in-person seminar for homebuyers of all experience levels! Let DC's top-selling real estate team teach you how to save time and money!
When and where
Location
The Keri Shull Team Office 1600 Wilson Boulevard Suite #101, 1st Floor Arlington, VA 22209
About this event
This is an In-Person Brunch Seminar! Mimosas and food will be provided as you learn how to begin your search for a home!
You might have heard about why homeownership is so beneficial right now:
Builds long-term wealth
Creates financial independence
Frees you from answering to a landlord
Appreciates in value, turning into a passive investment
Allows you to invest money in yourself, rather than throwing it away on rent
But even if you know all of these benefits, it can be hard to make the right home buying decision in the current market.
In the Washington DC area, competition can be steady all year long...which can lead to trouble finding the right house, bidding wars, and tons of extra stress in your home search.
But almost all of this stress occurs because a lot of people don't know how to maximize their home search! That's why we created our Home Buying Seminar — to teach you the 7 steps of the home buying process and save you time, money, and stress in the search for your home!
Led by top agent Bridget Mendes and local lender Karl Svendsen, you will learn:
How to find off-market homes — hidden gems that you cannot find on popular home search websites
How to get out of your lease, so you can move on your timeline
The "4 C's" that determine the home price in any market
How to set a realistic budget for your home search
And more!
So if you're ready to stop giving your hard-earned money to a landlord and start to build stable wealth as a homeowner, sign up for the Home Buying Seminar today!
This is an In-Person Seminar! Parking is available for those commuting by car. The office is also walking distance from the Rosslyn Metro.