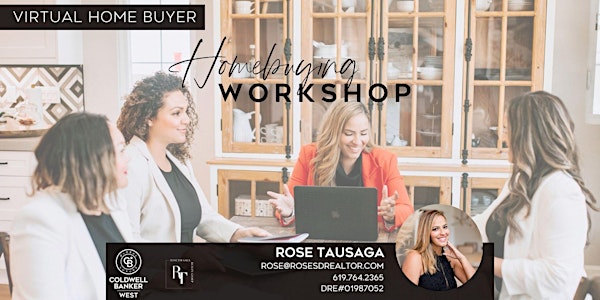 Home Buyers Workshop
THE MARKET IS SHIFTING! Let our team help you achieve your goal of becoming a home owner this year!
About this event
Buying a home can seem overwhelming not knowing where to begin, who to talk to, or having a plan to help you attain home ownership.
Our team is here to help guide you with our Home Buyers Workshop to answer all of your questions.We will educate you and address your concerns to ensure you are extremely savvy about buying and taking advantage of today's market!
We will be covering:
🔑 Should I wait to buy
🔑 Where Do I Start?
🔑 Benefits of Home Ownership!
🔑 8 Steps to Buying A Home
🔑 Do's & Dont's
🔑 What You Need to Start the Process
🔑Special Programs You May Qualify For & Myths
This is a FREE event! Sign up now to reserve your spot!
Rose Tausaga
Coldwell Banker West| DRE#01987052
619-764-2365| rose@rosesdrealtor.com
www.rosesdrealtor.com