Description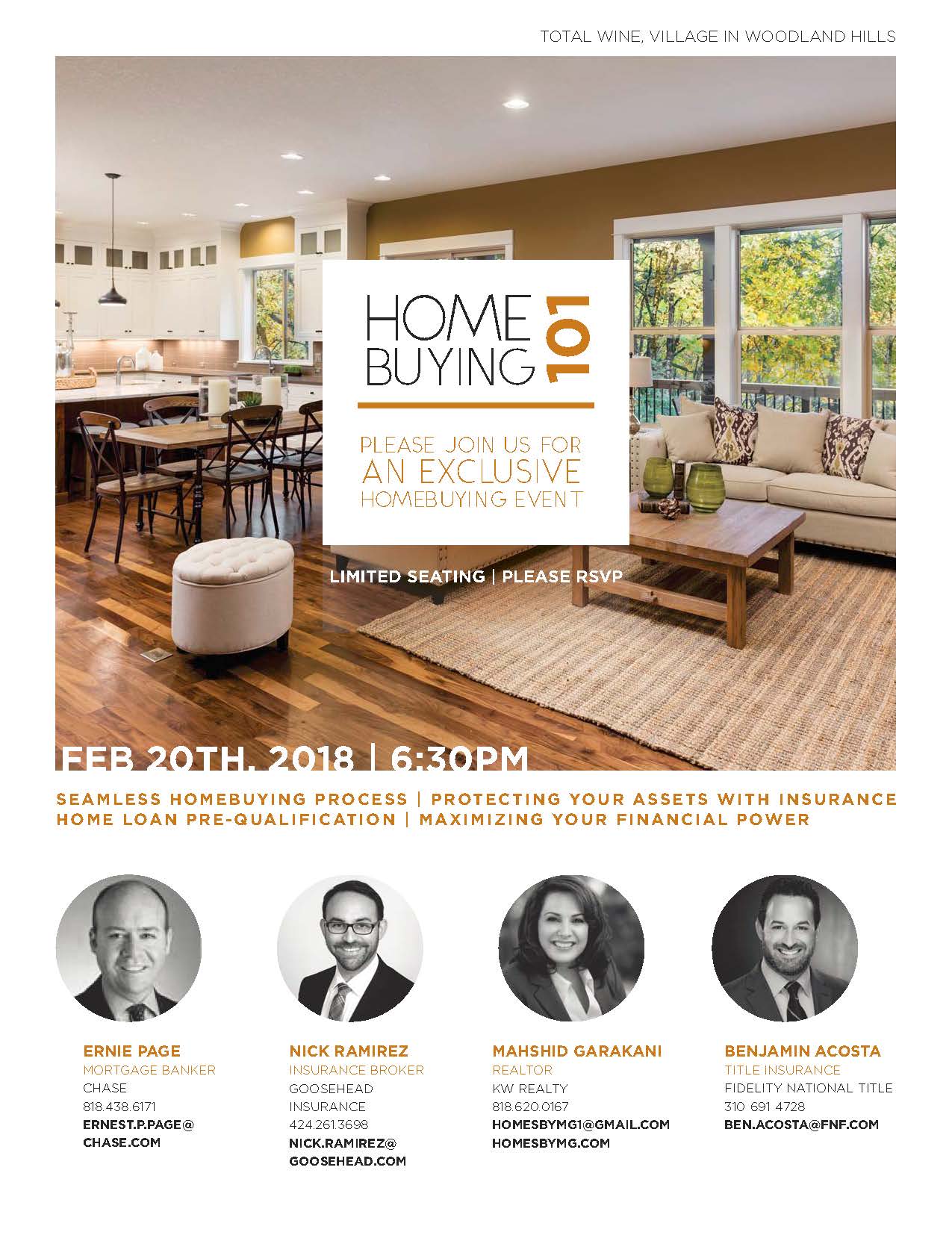 Four real estate pro's are hosting a complimentary and interactive event to help you learn about a variety of homeownership topics related to budgeting, buying, remodeling, refinancing, and selling your home.
Join Mahshid Garakani of Keller Williams Realty, Nick Ramirez of Goosehead Insurance, Ernie Page of Chase Bank and Benjamin Acosta of Fidelity National Title in understanding the buying/selling process and how best to approach smart real estate transactions.
This limited event, which is taking place on Tuesday February 20th, 2018 between 6:30 p.m. and 8:30 p.m. at Total Wine at The Village in Woodland Hills. Complimentary food and wine will be served.
Topics include:
• Understanding home loan pre-approval
• Understanding the real estate market
• Understanding property insurance
• Understanding title insurance
Guests are encouraged to bring a friend or spouse and enjoy the F&B being provided. An open Q&A session will also be allocated after the presentation to ensure all personal questions are answered.
About the Presenters
Mahshid Garakani is a full time Broker Associate with over 14 years of experience in the real estate industry. Mahshid brings high quality professionalism to all her clients. Her dedication, passion, and expertise for real estate makes her a "stand out" with selling her clients homes or during the purchasing of their dream home. Mahshid is affiliated with the Southland Regional Association of Realtors, the National Association of Realtors, and the California Association of Realtors. Mahshid speaks fluent farsi and is graduate of Cal State Long Beach.
Nick Ramirez is an Agency Owner with Goosehead Insurance. His brokerage has the unique abilty to shop over 20 A-rated insurance carriers specializing in package options for clients. As a business owner, his focus and understanding of escrow ensures that his clients always close on time and on budget. Referred to as the "go to" for insurance, Nick's training background provides a smooth and informative experience so clients fully understand all of their coverages. He's a past president & chairman of the San Fernando Valley Junior Chamber International and graduate of California State University, Northridge.
Ernie Page is a senior home lending advisor with over 20 years of experience. As an expert in residential mortgage lending, he has helped thousands of home buyers achieve their dream of home ownership. Ernie prides himself on educating clients and providing an excellent customer experience. He is a graduate of UC Riverside.
Benjamin Acosta is a Vice President with Fidelity National Title Company and serves as an expert in land title issues. With years of experience in the field, Ben's ability to convey difficult topics and help clients navigate title problems is one reason why he's #1 in the San Fernando Valley.