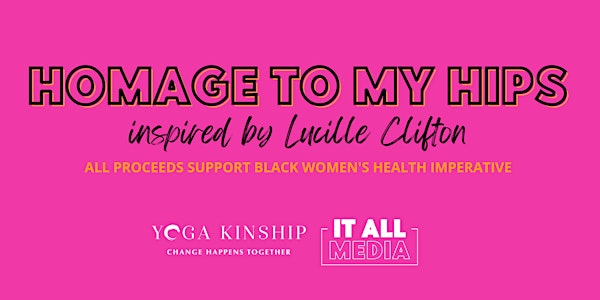 Homage to My Hips
Homage to my Hips: A Gentle Hip Opening Flow Inspired by Lucille Clifton
About this event
Yoga Kinship presents Homage to My Hips virtual event in partnership with IT ALL Media supporting Black Women's Health Imperative.
With her poem, Homage to My Hips, prolific author Lucille Clifton celebrated both blackness and womanhood. Through her bold, sensual and charismatic lyrics we are invited to own our bodies and take up space. The Sanskrit word for 'good space' is Sukha, today we flow together as women, in recognition of Black History Month and the struggle for wellness equity amongst the BIPOC community. We carve the time to release the emotional energy we have stored in our hips and find our own Sukha, or good space.
ALL proceeds from this virtual event will go to support Black Women's Health Imperative. Black Women's Health Imperative is the oldest national organization dedicated solely to improving the health and wellness of our nation's 21 million Black women and girls - physically, emotionally and finacially.