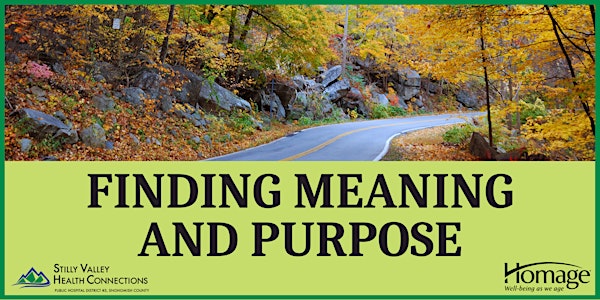 Homage Presents: Finding Meaning and Purpose
Identifying your values and strengths play an important role in finding meaning and purpose in your life.
About this event
There are times when a person can struggle with finding purpose or meaning in their life. It is normal to feel lost or stuck during periods of transition, but it also provides an opportunity to review what is getting in the way of living life to the fullest. Join us for this presentation offered by Homage Senior Services to better understand how to reflect on life detours, identify personal values and strengths and reset the direction of one's life to find purpose and meaning.
This presentation will take place through a Zoom meeting. Participants will be able to turn on their camera and microphone for questions and interactive discussion. There is no cost to attend.
Date: September 27th, 2022
Time: 2-3pm PST
Host: Stilly Valley Health Connections
Location: Online via Zoom