Holy Trinity Lutheran Concert Series - Wee Bit 'O Irish on Flute & Guitar
Description
Music in the Neighborhood brings music to YOU - FREE!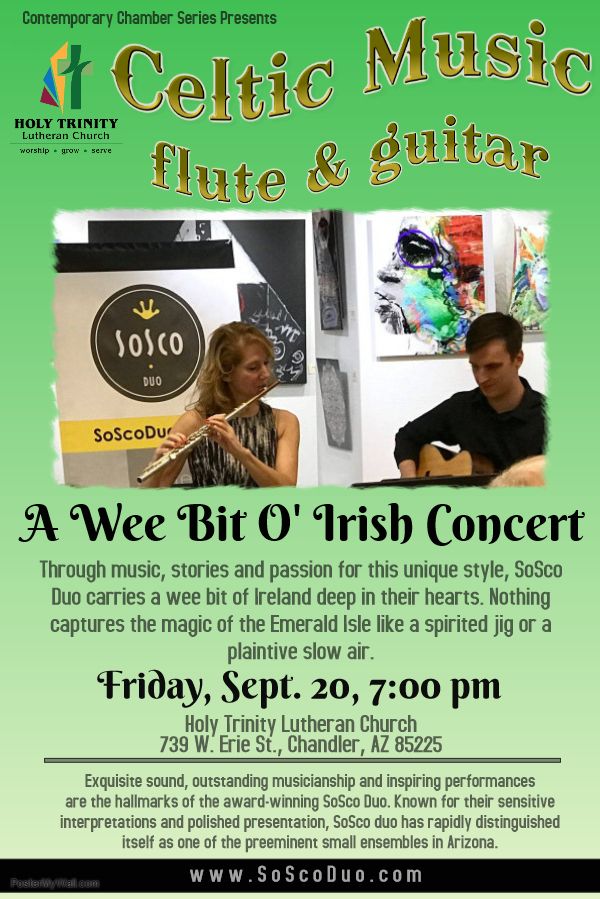 Holy Trinity Lutheran Concert Series invites you to "A Wee Bit 'O Irish" featuring SoSco Flute & Guitar Duo.

Through music, stories and passion for this unique style, SoSco Duo carries a little bit of Ireland deep in their hearts. Nothing captures the magic of the Emerald Isle like a spirited jig or a plaintive slow air. You'll hear a great variety as SoSco follows the Irish tradition of sharing music with you in this intimate performance of intrinsically Celtic music.
Free will offering collected at the end of the performance.

Exquisite sound, outstanding musicianship and inspiring performances are the hallmarks of the award-winning SoSco Duo. Known for their sensitive interpretations and polished presentation, SoSco duo has rapidly distinguished itself as one of the preeminent small ensembles. www.SoScoDuo.com