Description
LADIES -- A CONFERENCE JUST FOR YOU!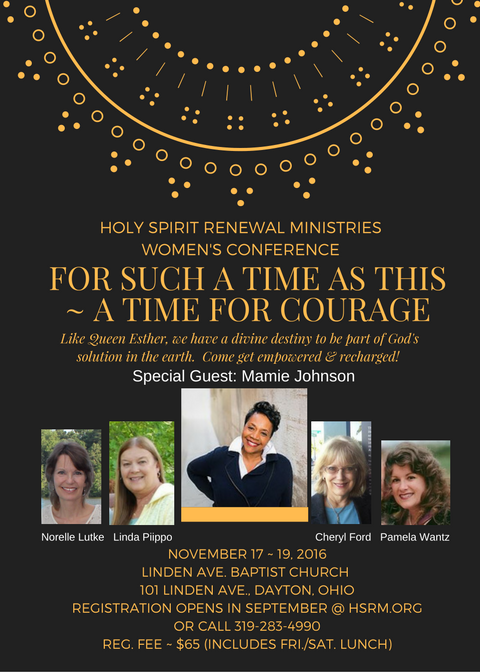 Intimacy ~ Destiny ~ Courage
Come and gain a heart of passion and courage!
IT'S TIME TO... Lift up holy hands, not wring them...Let faith and hope arise...Rekindle your First Love...Possess your identity in Christ...Live in a Love that destroys the enemy...Crush the enemy under your feet. Come, and be immersed in the empowering presence of the Holy Spirit. It will change everything!
CONFERENCE SCHEDULE
THURS. NOV. 17 - 7PM CONFERENCE OPENS (Doors open at 6 PM)
Worship & Speaker - Mamie Johnson
FRI. NOV. 18 - All Day 9AM – 5PM Lunch included
9:00 Worship
9:30 Plenary Session - Cheryl Ford
10:30 Beverage Break
10:45 – 12:00 Workshops - Pam Wantz, Linda Piippo
12:00 – 1:15 Lunch
1:30 Plenary session - Norelle Lutke
2:30 – 3:45 Workshops - Debbie Church, Risa Dominguez
3:45 – 5:00 Pamper time
Dinner Break on your own
7PM Evening Meeting (Open to All- Men Welcome)
Worship & Speaker - Mamie Johnson
SAT. NOV. 19 All Day 9AM – 4PM Lunch included
9:00 Worship & Prayer
9:30 Plenary session - Linda Piippo
Beverage break 10:30
Workshops 10:45 – 12:00 Aurora Newton, Linda Caterina
12:00 – 1:15 Lunch
1:30 – 2:30 Workshops - Cheryl Ford, Risa Dominguez
2:30 – 4:00 Worship & Speaker - Mamie Johnson
CONFERENCE ENDS
SUNDAY NOV. 20 10:00 AM - All are welcome to attend Linden Ave. Baptist Church morning worship service.
DAY-RATE REGISTRATION AVAILABLE - CALL 319-283-4990
LODGING
GROUP RATE ROOMS at DRURY INN & SUITES, DAYTON NORTH Rate per room, per night, $109.99 Non-smoking 2 Queen Beds Deluxe Rooms held at group rate these days: Thurs. 11/17, Fri. 11/18, Sat. 11/19 TO GET A ROOM AT THE GROUP RATE: Please email Pam Wantz at paw777@sbcglobal.net or call 937-545-8467.
RESERVATIONS MUST BE MADE BY OCTOBER 27th for group rate!
GREAT AMENITIES!!
Group room rates include the following for overnight guests: • HOT Breakfast – Including Belgian waffles, fruit, biscuits & gravy, sausage and more*.• 5:30 KICKBACK® - Each evening from 5:30p-7:00p kick back, relax and enjoy free hot food and cold beverages**.• Overnight Parking.• Free Long Distance - One hour every room every night.• Wireless Internet Access – High speed Internet in all rooms and in the lobby.• Soda and Popcorn – From 3:00 pm to 10:00 pm every night in the lobby.
*Breakfast features a rotating menu of items and is served Monday – Friday from 6 am – 9:30 am and Saturday.
ADDITIONAL LOCAL LODGING OPTIONS
Courtyard Dayton North Address: 7087 Miller Ln, Dayton, OH 45414 Phone:(937) 890-6112
Hampton Inn & Suites Dayton-Vandalia Address: 7043 Miller Ln, Dayton, OH 45414 Phone:(937) 387-0598
Fairfield Inn Dayton North Address: 6960 Miller Ln, Dayton, OH 45414 Phone:(937) 898-1120
Red Roof Inn Dayton North Airport Address: 7370 Miller Ln, Dayton, OH 45414 Phone:(937) 898-1054
Quality Inn & Suites Address: 3661 Maxton Rd, Dayton, OH 45414 Phone:(937) 890-1221
Comfort Inn Address: 7125 Miller Ln, Dayton, OH 45414 Phone:(937) 890-9995
Courtyard Dayton North Address: 7087 Miller Ln, Dayton, OH 45414 Phone:(937) 890-6112
Extended Stay America - Dayton - North Address: 6688 Miller Ln, Dayton, OH 45414 Phone:(937) 898-9221