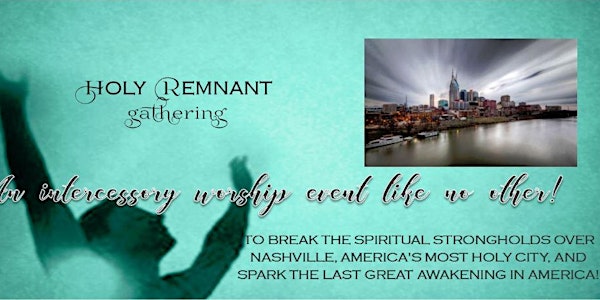 Holy Remnant Gathering
Holy Remnant Gathering will bring together Christians from all over Tennessee in intercessory prayer & worship
When and where
Location
Cornerstone Nashville 726 West Old Hickory Boulevard Nashville, TN 37115
About this event
Holy Remnant Gathering will bring together Christians from all over Tennessee in intercessory prayer and worship to break the spiritual strongholds over Nashville, America's most holy city, in order to release the Holy Spirit's power for a last great harvest of souls.
Breaking the strongholds will be accomplished by staking the border counties with scripture stakes, a choir singing true worship songs, and godly men praying down the strongholds!
Come prepared for and intercede for an outpouring of the Holy Spirit like Azusa St., Hebrides, Welch, Brownsville all rolled into one!
Holy Remnant Gathering is not affiliated with any specific church or denomination. The event is free but please donate to help defray the expenses at givesendgo.com/holyremnantgathering
VIDEO DISCLAIMER: Holy Remnant Gathering (HRG) reserves the right to use any photograph or video taken at any of their events, without the expressed written permission of those included within the photograph/video. HRG may use the photograph/video in publications or other media material produced, used, or contracted by HRG, including but not limited to brochures, invitations, books, newspapers, magazines, television, websites, any electronic or digital media, etc.To ensure the privacy of individuals and children, images will not be identified. By participating in an HRG event, you are agreeing to release, defend, hold harmless, and indemnify HRG from any and all claims involving the use of your picture or likeness.Any person or organization not affiliated with HRG may not use, copy, alter, or modify HRG photographs, graphics, videography, or other similar reproductions and recordings without the advance written permission of an authorized designee from HRG.
#revival #greatawakening #harvestofsouls #holyspirit #nashville #praise #prayer