Holy Meeting with Himalayan Siddha Master Yogmata Keiko Aikawa
Description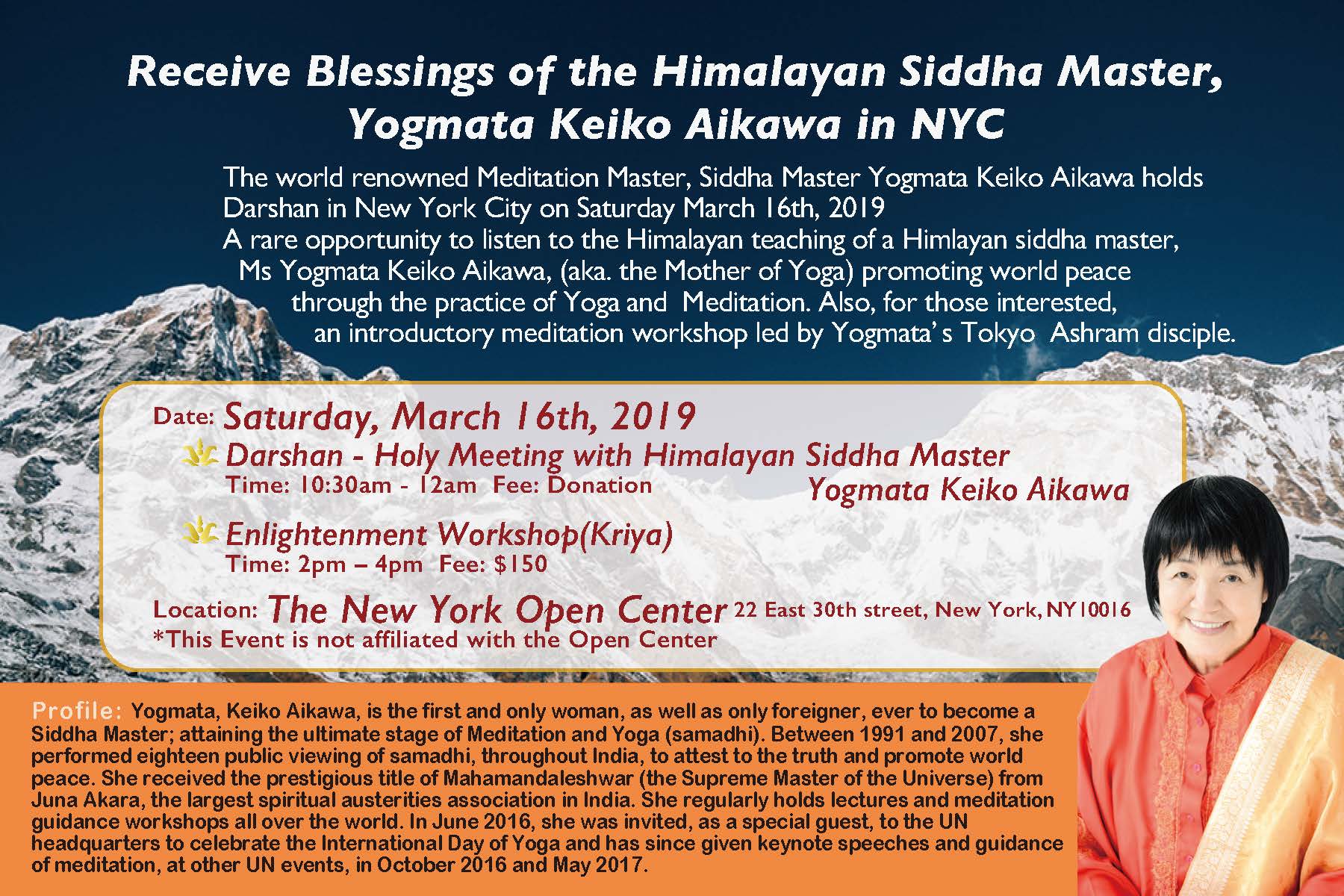 The World Renowned Meditation Master, Shiddha Master Yogmata Keiko Aikawa holds Darshan in New York City at the New York Open Center on Saturday March 16, 2019. Attendees will have a rare opportunity to hear Ms. Yogmata Keiko Aikawa, "The Mother of Yoga," who promotes peace across the globe through the practice of yoga and meditation.
"Through meditation and yoga, we are able to help ourselves find balance and harmony in our lives, which we can in turn share with others as we spread kindness" said Master Yogmata.
This event is a continuation of her avid effort of introducing her Anuguraha Samadhi Meditation method to spearhead the spreading of peace experience among people of the world. The method's uniqueness lies in its centering around the energy of an authentic Samadhi Master called Anuguraha and can only be truly experienced by having a direct contact with that energy through meeting a Shiddha Master.
Her Holiness Yogmata Keiko Aikawa is also a highest ranking priest "Mahamandaleshwar" in the largest spiritual austerities association in India "Juna Akara", thereby genuinely representing the spiritual tradition handed down in India and one of only two yogis officially certified by the Indian Government as being completely capable of performing Public Samadhi demonstrations in national occasions such as Kumbhu Mela spiritual festival in India. Her feats of public samadhi demonstrations by now number 18 times throughout her time as a yoga master which is entirely dedicated to bringing peace to the people of the world.
In recent years Yogmata Keiko Aikawa has made keynote addresses at the United Nations and occasions surrounding UN such as 'The International Day of Yoga 2016', 'Celebrate Earth: Sustainable Living, Meditation and Yoga' in 2017, and 'Women Leadership Advancing the Culture of Peace' in 2018.
As a regular guest in NYC, she is now keener than ever to invite a much wider spectrum of people to her Darshan and Workshop to have an experience of her energy of cosmic peace.
In extending her invitations, Science of Enlightenment, a charity organization founded by Yogmata Keiko Aikawa herself would like to invite all of those with genuine interests in hearing and receiving spiritual truth and experiences from this genuine master of enlightenment.
About Yogmata Keiko Aikawa:
Yogmata Keiko Aikawa is the first woman and non-Indian to reach the ultimate state of meditative consciousness, and only one of two Siddha Masters ever to appear in public. As a teenager, Ms. Yogmata pushed through cultural barriers facing women in Japan, India and Nepal to learn and practice meditation and yoga. She has since become an empowering voice and mentor for women and children, a compassionate spiritual leader, and a humanitarian whose charitable work has included the establishment of her organization, NPO: Yogmata Foundation, a social welfare service foundation in India, donation of mobile hospitals to remote villages in India, and holding lectures and seminars as part of the World Peace Campaign. Ms. Yogmata has performed 18 public Samadhis, most notably at the Maha Kumbh Mela, a festival held once every 144 years and attended by more than 70 million people, including prominent celebrities and figures such as Paul McCartney and Madonna.
In the afternoon, she offers a special Kriya Workshop from 2:00 to 4:00 PM and the cost associated with this is $150/person.

For more information please contact:
646-696-5786; usa@science.ne.jp
Science of Enlightenment (USA), Inc.