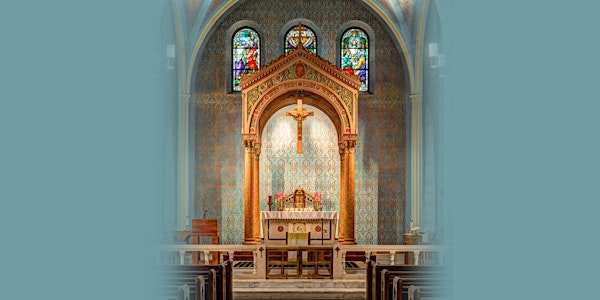 Holy Mass at St. Monica - May 23/24
The Most Holy Sacrifice of the Mass, celebrated safely with appropriate social distancing.
When and where
Location
St Monica Catholic Church 222 West Mishawaka Avenue Mishawaka, IN 46545
About this event
We will be celebrating the Mass together as a community using social distancing and maximum capactiy guidelines set by Bishop Rhoades and the State of Indiana.
See the chart below for our seating guidelines. Any seat labeled '5' will have a maximum of 5 people. Any seat labeled '3' has a max of 3 individuals. Seats with 'X' will not be used.
If ALL seats are filled at each of the four standard Masses (4:30 pm Saturday and 7:00, 8:30, and 10:30am on Sunday), additional Masses and/or overflow seating may be added.
Please plan to arrive no later than 15 minutes prior to the Mass you have signed up to attend. All households will line up at the MAIN ENTRANCE of St. Monica (following social distancing tape placed on the side walk, leading up to the right and/or left doors). Ushers will be waiting at the top of the steps to seat you and your household.
*The accessible entrance will be available only for those who need to use the ramp to enter the church (an usher will be available to provide assistance, if needed).
All individuals attending Holy Mass at this time should wear masks, unless medically unable to do so.
Instructions for receiving Holy Communion will be announced during each Mass. Members of the congregation may receive the Eucharist on the hand or on the tongue. To receive on the tongue, you must approach the Communion rail and receive from the priest. If you are uncomfortable receiving the Eucharist at this time, you are always welcome to remain in the pew during Holy Communion.
In accord with the Bishop's directives, there will be no sung music until otherwise noted.
Pews and high-contact areas will be sanitized in between Masses. Please remain in your pew at the end of Mass. Ushers will distribute disinfectant wipes for you to wipe down your space before being dismissed to exit out the east or west doors.
We appreciate your patience and cooperation as we come together for the Holy Sacrifice, with measures in place to minimize risks during this time.