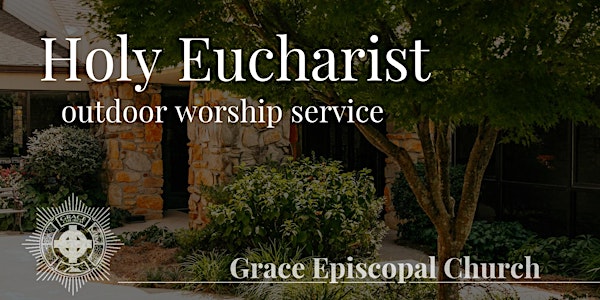 Holy Eucharist (outdoor)
We are happy to offer outdoor Holy Eucharist on Sundays at 9:30 AM, beginning Easter Sunday, April 4.
When and where
Location
Grace Episcopal Church 422 Brenau Avenue Northeast Gainesville, GA 30501
About this event
Eucharist is also offered indoors on Sundays at 8:15 AM & 10:45 AM. Sign up for indoor services here: https://indoor-eucharist.eventbrite.com
In-person gatherings at Grace Church will follow CDC guidelines as well as health and safety procedures required by the Diocese of Atlanta. Some of these guidelines are detailed below and will be sent in your confirmation email so you have a copy for your records.
If you would like to join us, please register/reserve a spot for each family member in attendance. Space is limited to 71 congregants and 4 worship leaders. All family members will attend the outdoor service, there will be no nursery or childcare available.
The morning of the service, please ask yourself the following questions:
Has anyone in the household had a fever (temperature of 100.4°F or greater), new cough, shortness of breath, or other symptom of COVID-19 in the last three (3) days?
Has anyone in the household had close contact with someone with COVID-19 or who has been exposed to COVID-19?
Has anyone in the household tested positive or is awaiting results from a COVID-19 test?
If the answer to any of the above questions is yes, please refrain from joining us in person for a period of at least 14 days. We would love for you to participate in worship by joining us online. Links to virtual worship services can be found on our Grace@Home page.
Please bring your own chairs from home.
Should we need to cancel the outdoor service due to weather conditions, notice will be posted on the Grace Church Facebook page.
ARRIVING AT GRACE
The service will be held in the parking lot at the corner of Brenau Avenue and Boulevard.
As an act of hospitality and care for others, ALL persons over age 2 are required to wear a protective face covering at all times when on the Grace Church campus. For the time being, this includes those who have been vaccinated. Please bring an appropriate face covering with you. Your mask should cover your nose and mouth completely.
Please maintain a 6 foot distance between you and others who are not part of your household when on the Grace Church campus. Touch free greetings are highly recommended and encouraged!
Please make sure you are checked-in by one of the worship leaders.
DURING THE SERVICE
No printed bulletins will be passed out at church. You may access the order of worship on your mobile device during the service, however, you may want to save a copy of the page for offline viewing, wifi access outdoors on campus is spotty. Links to bulletins will be found on our Grace@Home page.
A collection plate will be available, but not passed. You may also choose to give, as you are able, online or via the VANCO GivePlus Mobile app. Checks can be mailed to Grace Episcopal Church, 422 Brenau Ave., Gainesville, Georgia 30501.
For safety during the pandemic, Communion will be in one kind - bread only.
No music at this service.
AFTER THE SERVICE
Please maintain physical distancing as you return to vehicles and leave campus or transition to another on campus gathering (when offered).
Go in peace to love and serve the Lord!
If you should develop symptoms of COVID-19 and/or test positive within five (5) days of attending an in-person service please contact Parish Administrator Reba Page at rpage@gracechurchgainesville.org or 770-536-0126.