Description
Build a distributed app prototype in a weekend!
Familiarize yourself with a new coding paradigm and learn tools for the rapid development of decentralized applications. Holochain is a post-blockchain protocol for storing data in a completely peer-2-peer network. Join co-founder Arthur Brock, Communications Director Matthew Schutte, and members of the Holochain team for this workshop on the technology.
Friday Sept 21

6:00PM—9:00PM
Saturday Sept 22

10:00AM—8:00PM
Sunday Sept 23

11:00AM—6:00PM
Note 1: Friday's session is free and open to the public. Please arrive between 5:30 and 5:45 pm. Your registration helps us plan appropriately.
Note 2: Tickets are required for Saturday & Sunday - the fee goes toward food, materials, and venue. If the ticket price is a barrier, please contact us for support.
Note 3: If you're coming for Saturday and Sunday, please attend Friday evening's session.


Are you interested in building decentralized applications?
Imagine a world where everyone can interact with no central power in the middle. Imagine a world where we can build a local and global sharing economy (cars, homes, tools, learning...), where everyone can play and contribute to the decisions. A world where we can build sustainable currencies, with no central authority that could sooner or later dictate the rules. A world where we can design thriving economies. This world will run on distributed apps, or dApps. Open source, completely distributed, dApps allow direct peer-to-peer interactions and have incredible evolutionary capacities.
Holochain enables a distributed web with user autonomy built directly into its architecture and protocols. Data allows the remembering of our lived and shared experiences. Distributing the storage and processing of that data will change how we coordinate and interact. With digital integration under user control, Holochain liberates our lives from corporate control over our choices and information.
Join Holochain co-founder Art Brock and the Holo team for a weekend of training and hands-on support in Holochain architecture, design principles, and app development tools with plenty of work in teams to build distributed software applications.


Preparation
Check Out Our Developer Documentation:
Join Holochain Amsterdam Chatroom:
Review our website:
Get stoked:


Hackathon Structure
Project co-founder Arthur Brock will introduce people to building in the Holochain framework. We encourage people to come with distributed app ideas. Experience with either JavaScript or Lisp will be helpful, but not mandatory. Information on how to prepare for the Hackathon will be provided in advance to ticket holders.
Fri evening — 6-9 pm
Includes an introduction to the technology from Arthur with an initial Q&A. This session is free and open to the public.
Sat/Sun — 10–8/10–6
Short educational sessions alternating with time for hands-on learning by collaborating on prototypes and models to share at a show and tell at the closing.
Our job is to support you in going as far as you can from where you're starting. We're all learning together. Whether you're coming to learn to code on Holochain, develop a radical business model, or design social enterprise — we're here to support you.
Location, Transportation, & Food
We are being hosted by Impact Hub Amsterdam - Linnaeusstraat 2C
The location is easily accessible by public transportation and has parking available nearby. Please note that parking is not included in the ticket price. Transportation and parking details can be found here.
Lunches and light snacks will be provided. Please bring a reusable water bottle and anything else you need to be comfortable during the event.
Event Partners
We are very grateful to Impact Hub Amsterdam for hosting and sponsoring our event! Want to co-sponsor? Contact us!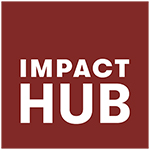 FAQs
I want to participate, but I don't know how to code. What can I do?
Come! Bring your passion and ideas! With our RAD tools, Holochain developer support team, and project-groups, all participant have the opportunity to participate in building a distributed app!
Can I do business on Holochain?
YES! Jump into our track for people who want to build businesses to capitalize on Holochain's unique structure!
I don't want to build an app or a business, can I play?
Yes! Join our track for designing social enterprises using the same living systems principles that Holochain's built upon!
Can the app I want to make be built on Holochain?
The answer is almost certainly yes. Nearly any app can be built on Holochain and in most cases Holochain offers you functionalities and efficiencies that other distributed architectures don't.
I still feel skeptical. What do you say to that?
Good! You should feel skeptical! We're making some serious claims. Come and see for yourself.
(and take a look at our green paper, white paper, and currency paper)
What should I bring?
Bring your passions, skills, and ideas for next-generation apps, businesses, and social systems!!
And a water bottle ; )
Can I ask more questions?
Totes. Ask away.