A celebration of Sadhviji's new memoir - Hollywood to the Himalayas: A Journey of Healing and Transformation!
About this event
Join Pujya Swami Chidanand Saraswatiji and Sadhvi Bhagawati Saraswatiji in the celebration of Sadvhi's newest book release. This evening will include a special satsang, meditation, divine blessings, and spiritual question-answer session.
-----------
About the book :
Hollywood to the Himalayas is an enlightening memoir of a reluctant spiritual seeker who finds her true self and lifelong calling when she travels to India.
Agreeing to travel—because she loved the food—Sadhvi never imagined she would meet her guru and, as a result, find a way home to herself.
Now one of the preeminent female spiritual teachers in the world, Sadhvi recounts her journey with wit, honesty, and clarity and, along the way, offers teachings to help us all step onto our own path of awakening and discover the truth of who we really are—expansive love, perfection, and an embodiment of the Divine.
-----------
Sadhvi Bhagawati Saraswati, PhD is a renowned spiritual leader, author and motivational speaker based in Rishikesh, India. Originally from Los Angeles and a graduate of Stanford University, Sadhviji has been ordained into the sacred order of Sanyas by her guru H.H. Pujya Swami Chidanand Saraswatiji and has been living at Parmarth Niketan Ashram for the past twenty-five years.
She is the Secretary-General of the Global Interfaith WASH Alliance, an international interfaith organization dedicated to clean water, sanitation, and hygiene; president of Divine Shakti Foundation, a foundation that runs free schools, vocational training programs, and empowerment programs; and director of the world-famous International Yoga Festival at Parmarth Niketan Ashram, Rishikesh—which has been covered in Time, CNN, the New York Times and other prestigious publications and has been addressed by both the Prime Minister and Vice President of India. She serves on the United Nations Advisory Council on Religion and the Advisory Council of KAICIID as well as on the steering committees of the International Partnership for Religion and Sustainable Development (PaRD) and the Moral Imperative to End Extreme Poverty, a campaign by the United Nations and World Bank. Sadhviji is a regular speaker at the United Nations, Parliament of Religions and other large international forums. Sadhviji has received numerous awards and recognition for her leadership role in India, including from the Cabinet Minister of Water Resources, Government of India, as well as from the Ambassador of the United States to India. She was also the Managing Editor for the monumental project of the 11-volume Encyclopedia of Hinduism. She oversees a variety of humanitarian projects, teaches meditation, lectures, writes, counsels individuals and families and serves as a unique female voice of spiritual leadership throughout India and the world.
-----------
Please bring a blanket, yoga mat, or cushion to sit on.
We kindly ask that you wear a mask in consideration of the health of all who will be attending.
-----------
Hollywood to the Himalayas is Launching on August 3rd 2021
Website: www.Sadhviji.org
Facebook: @SadhviBhagawatiSaraswati
Instagram: @Sadhviji
Twitter: @SadhviBhagawati
Co-hosted by Debra Poneman, Yes to Success, Inc. and Drs. Bob and Judith Wright, Wright Foundation.
Event hosted outdoors in the private garden at Essence Of Life Integrative Wellness. 641 West Grand Ave Chicago Il.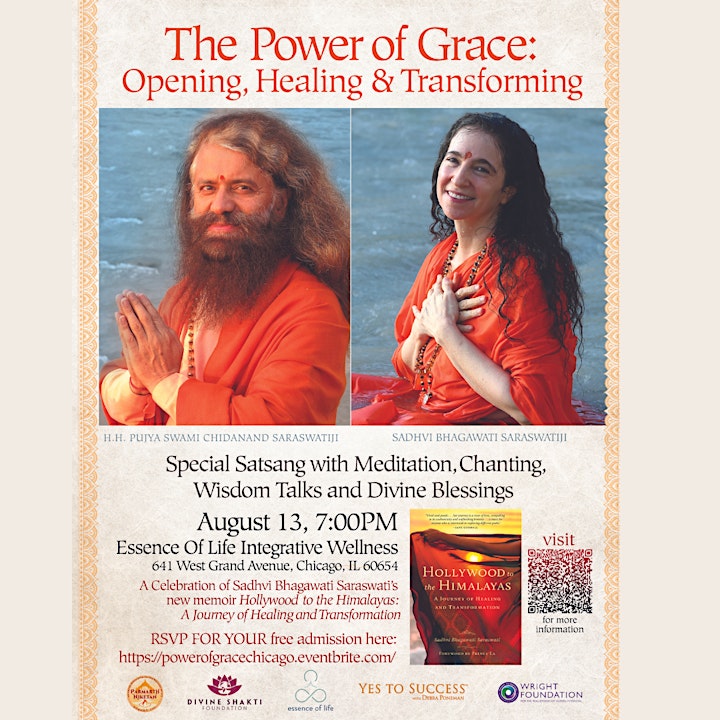 Organizer of Hollywood To The Himalayas Book Celebration | Sadhvi Bhagawati Saraswati
Here at Essence Of Life we provide a safe space with no judgment or competition. We are an integrative wellness studio where you will receive a special intimate connection with our staff & community, instead of being just another face in the crowd. You will find a unique blend of mindfulness, physical movement, meditation, deep connection, and a strong love for one another. Our intention is for you to leave here with laughter in your heart and peace in your soul. Join us and experience it for yourself.