Hollywood Shuffle Screening & Story Swap (Fightin' the Power: Your Means an...
Description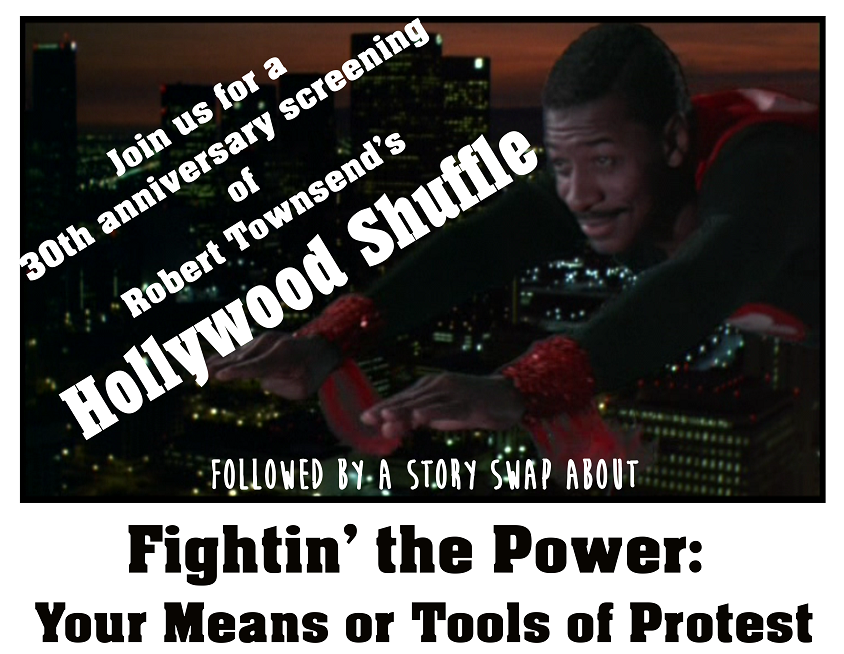 ---
March 20, 1987, Robert Townsend released Hollywood Shuffle. Having limited resources and a bounty of drive and creativity, Townsend used what he had to say what he needed to say. In what ways are you doing the same?
In this second installment of "Beans", join us as we watch aspiring actor, Bobby Taylor, dodge the minefield known as Hollywood, while he struggles to secure acting roles without making a disgrace of himself and his family. We'll follow-up with a story swap, allowing attendees to share concrete examples of the tools they've used to affect change.

Mr. Townsend brought film to the fight. What are you gonna bring? What's in your toolbox?

Is it:
*Rigorous Academic Instruction?
*Economic Empowerment?
*Legal Aid?
*Environmental Justice?
*A million other things not on this list?
Be ready to share a specific story about some aspect of your efforts to fight the power.

--NO SERMONIZING, PLEASE--

Come alone, bring a friend, or come with your honey. Just be ready to have a good time, learn from other folks' experiences, and give people a chance to learn from yours.

---

Doors Open @ 6:45 p.m.
Film Starts @ 7:00 p.m.

***********************
Limited Seating
RSVP via Eventbrite
Early Bird Price (thru 3/15/2017): $9.50
Regular Price (thru 3/28/2017): $15.00
Reserved Seating (thru 3/20/2017): $20.00
18 & Older ONLY

#HollywoodShuffle, #MovieScreening, #FMIEnglish, #Beans, #ImpactHubOakland, #FightThePower, #Resist