Hollywood Science Fiction Museum Charity Event Honors Star Trek Celebrity N...
Description
Come and Meet Nichelle Nichols! We hope you can join us! All must have tickets to enter. RSVP is required for guests, celebrities and media, pending approval (See information below.). Cheers!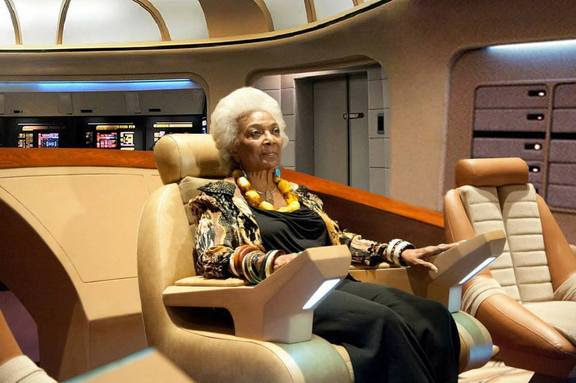 Join Us Tuesday Evening, September 19, 2017, for the Hollywood Science Fiction Museum Charity Event Honoring Nichelle Nichols, the Legendary Lieutenant Nyota Uhura of Star Trek. This Tribute Celebration Party Will be Held at the Ripley's Believe It or Not Hollywood Museum from 9:00 PM - 1:00 AM. Special Guests Include Hollywood Science Fiction Museum Board Members, Celebrities, Kick Starter Investors & Avid Science Fiction Advocates Who All Honor Nichelle Nichols, the Preservation, History & Future of Science Fiction Film & TV & the Raising of Funds for the 2018 Hollywood Science Fiction Museum Building & Educational Foundation. Confirmed Celebrities Include Claudia Wells, Cory Roberts, Almayvonne Dixon, Patrick Kilpatrick, Jennifer Durst, Peter Kwong, Maria Russell, Joey Lathman, Tara Nicole Azarian, James Calvo, & More to be Announced.
Guests will be able to Sit on a Replica of the Original Star Trek Series Captain Kirk's Chair & There will also be Food & Beverages, an Auction & Swag Bags. Tickets are $100 each. Space is Limited. Contact HollywoodScienceFictionMuseum@gmail.com for Details or TracySaundersArt@gmail.com for Celebrity & Press/Media Confirmations.
Cosplay encouraged!
(Copy & paste links into the URL to view.)
Get Tickets at https://hollywoodscifimuseumnichellenichols.eventbrite.com
Thank you. All Donations are Tax Deductible.
Hollywood Science Fiction Museum (www.HollywoodSciFi.org Museum), a New Starship Foundation is Non-Profit 501(c)(3) Educational Foundation.

Check out the new Hollywood Sci Fi Museum video promotion:
https://www.facebook.com/hollywoodscifi/videos/1297445923697093/
Join us on Face Book: https://www.facebook.com/hollywoodscifi/
--------------------------------------------------------------------------------------
$15 Parking is at LOEWS Hotel on Hollywood and Highland at 1755 N Highland Ave, Los Angeles, CA 90028.