Description

GET TELEPROMPTER TRAINING AND CREATE BROADCAST QUALITY FOOTAGE FOR BUILDING YOUR REEL.
More and more producers are requesting hosts to be proficient in reading a TelePrompTer for commercials, industrials, and television hosting and reporting. Now they're

frequently being used in auditions.
Those hosts that do have experience with the TelePrompTer, under their belt, have a definite competitive advantage. Our package plans allow class participants to have multiple opportunities to use the Prompter during the class with a variety of scripts.
Join Multiple- Emmy Award winning journalist/TV Host Naibe Reynoso, and Director/Producer Alex Orellana from SpyGame Studios, as they share their secrets of what it really takes to make it in front of the camera, by performing strong stand ups with a solid delivery.
Hit the ground running with a jam packed day, filled with actionable steps, as we teach you how to speak effectively to your audiences, and walk away with video that you can use to build your reel.
---

Get Broadcast quality footage for building your reel.
This workshop provides:
1) Small, intimate class sizes
2) Live on-camera and TelePrompTer Training
3) FREE Broadcast Quality digital file of your class work
*Optional for all class participants- Get your footage professionally edited into a reel. See our add on packages below.
---

Special Offer: One day intensive class.
1) Bronze Package: $175
Part One: TelePrompTer Preparation Training: 9:00am- 12noon
2) Silver Package: $350
Part One: TelePrompTer Preparation Training: 9:00am- 12noon
Part Two: Produce Reel Footage - Script Provided, in TV Studio: 12noon- 4:00pm


3) Gold Package: $550
Part One: TelePrompTer Preparation Training: 9:00am- 12noon
Part Two: Produce Reel Footage - Script Provided, in TV Studio: 12noon- 4:00pm
Part Three: Produce a Edited Segment with On Set Coaching- Custom Script: 4:00-5:00pm
***Includes on set coaching with instructor. We will edit the footage, include Audio mix with music, and superimpose up to 5 images.
Add Ons:
$50- Make Up Artist
$250- Video Edit the Templated Segment-

edit the footage, sound treatment, and superimpose up to 3 images.



Register today, space is limited.
---

This Class will be on a Saturday (See date above) from 9:00am- 5:30pm at SpyGame Studios
Please call or email us with any questions or inquiries!
Location Address: SpyGame Studios: 160 E. Colorado Blvd, Suite 180, Pasadena, CA 91101
Phone: 323-860-8822
Email: Info@SpyGameStudios.com
Parking: Paid Parking is located in Ramp under building
---
Instructors:
Naibe Reynoso: Emmy Winning Journalist/ TV Host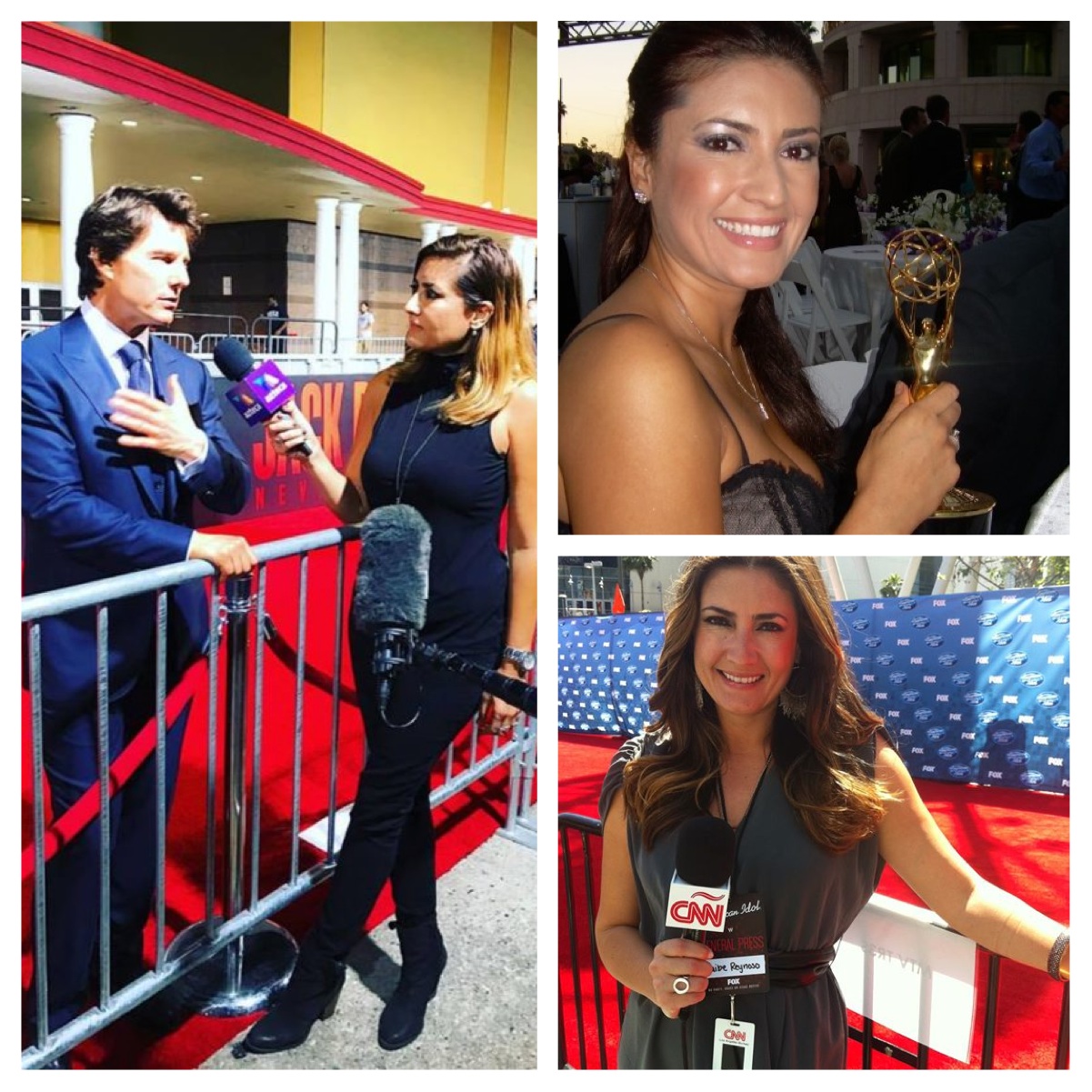 Bio:
Multiple-Emmy Award winning Journalist Naibe Reynoso's background includes investigative reporting, TV production and entertainment reporting.
A graduate of UCLA with a Bachelor of Arts Degree in Sociology, Reynoso began her TV career at Warner Bros. where, for 2 years, she worked as a production assistant for various sitcoms including "The Drew Carey Show" and "Step by Step.
During her stint there, she was featured with the whole production staff on an episode of the Oprah Show.
In 1994, Reynoso began hosting and producing her own Children's Educational Television Show "Chiquitran" for Los Angeles' KWHY Channel 22. In 1996 , she was awarded the National Association of Broadcasters Service to Children Certificate of Appreciation Award.
By 1997 Naibe transitioned into the position of KWHY TV''s Entertaiment Anchor/Reporter where she interviewed high-profile celebrities, attended press junkets, awards shows and anchored a nightly entertainment segment.
In 2000 Naibe became part of a start-up team for 24-hour Spanish language cable TV station "Más Arizona" in Phoenix, AZ. While there, she created and hosted two weekly entertainment/talk shows, Más Exitos and Café ñ. Naibe went on to win a Best Talent Emmy for her work on "Más Exitos."
Naibe moved to Denver in 2002 to accept the position of Reporter/Fill-In Anchor on KWGN TV's WB News. In Denver she covered the Kobe Bryant Scandal, Denver Crime, and Breaking News stories. She remained there until late 2003 when she was asked to audition for the position of co-host on ABC TV's The View. The audition took place live on October 9 & 10, 2003.
In March 2004, Naibe joined Radiovisa' Corporation, a 24-hour Spanish Talk Radio Network as co-host and news anchor for their morning radio show, as well as having her own weekly Entertainment Talk Show called "Con Naibe" where she would interview celebrities in intimate, no-holds-barred conversations. The show aired on Los Angeles radio station 830 AM KMXE and was syndicated nationwide.
She also began co-hosting "Al Filo de la Noticia" for KWHY-Channel 22 in 2006. In 2007 she moved on to work as a Freelance journalist for KTLA and Univision.
She also, filled-in as Los Angeles correspondent for Univision's National Entertainment sow "Primer Impacto," interviewing the Latin industry's biggest celebrities including Joan Sebastian and Ana Barbara.
She was a Reelz Channel Host and Correspondent from 2006-20011, where she had her own popular and highly rated weekly show "Twilight Weekly Spotlight."
Naibe has produced and hosted various specials for CNN Español including a Golden Globes and Oscar Special for the years 2011 and 2012 award seasons.
Since 2009, she has also had her own movie review segment for Miami's Caracol Radio 1260am called "Vamos al Cine con Naibe Reynoso." In her segment she talks about movie hits and misses as well as analyzes the latest in Hollywood news.
She also, filled-in as Los Angeles correspondent for Univision's National Entertainment sow "Primer Impacto," interviewieng the biggest celebrities in Spanish language market including Joan Sebastian and Ana Barbara.
Naibe Reynoso is now a freelance correspondent for various Los Angeles outlets including Fox News Latino, Azteca Network, and ORA TV, where her main duties are covering News, Lifestyle and Entertainment.
She is currently a board member for the prestigious Peabody Awards.
---
Alex Orellana: Director/Producer- SpyGame Studios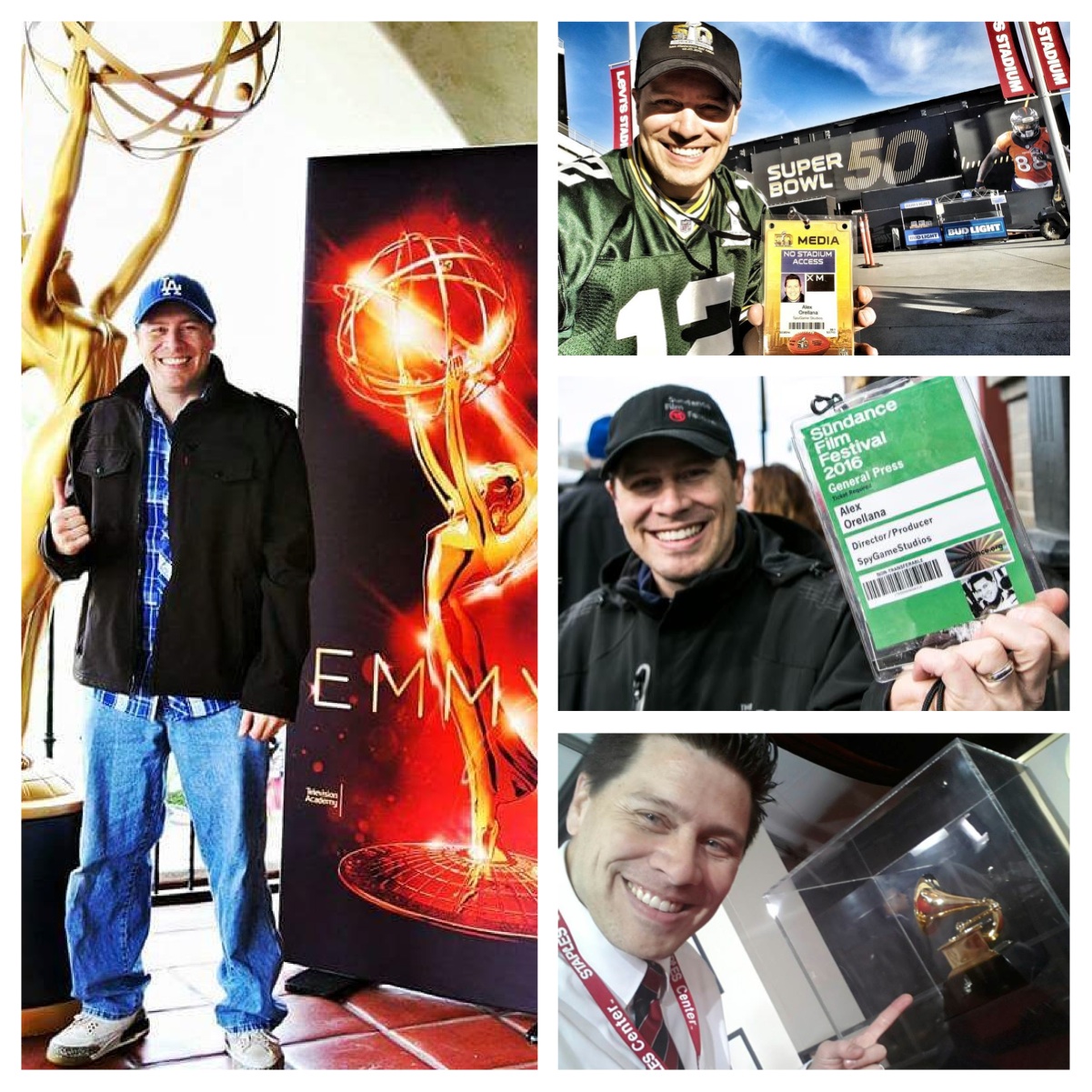 Bio:
As the founder and CEO of SpyGame Studios, Alex Orellana has always had a strong passion for Entertainment News.
Alex began his career in Los Angeles working in the CNN Newsroom, as well as for shows like Showbiz tonight. It was there where he got his first taste of entertainment and hard news reporting. Over a career spanning nearly two decades, Alex and his team have interviewed Hollywood's biggest stars and covered the Red Carpets for the Academy Awards, Golden Globes, Emmy's and Grammy's.
When it comes to media content creation, brand integration, and segment producing, Alex and his team are a one-stop shop. They write, shoot, produce, direct, edit, market, and distribute- high value content, very quickly- and understand the technical, creative, and professional demands of entertainment news.
"I get a huge adrenaline rush from covering major entertainment events and stories- it's what I love to do!" says Alex.
Aside from covering trending entertainment news stories, Alex and his team have also covered major sporting events like the Super Bowl, The NBA Finals, The NHL Finals, and The Olympic Torch Relay.
With a strong background in event production, Alex has produced over 1200 private events for many celebrities, movie studios, and corporate clients.
▶ Event Clients include: Muhammad Ali, Jennifer Lopez, Britney Spears, Tom Hanks, Dr. Dre, Eddie Murphy, Dana White, Luc Robitaille, Sugar Ray Leonard, Jennifer Love Hewitt, and George Lopez. (Just to name a few)
▶ Corporate Event Clients: Toyota, Disney, Pepsi, Doritos, Jet Blue, and many more.
Celebrities Interviewed:
▶ George Clooney, Tom Cruise, Steven Spielberg, Will Smith, Bill Clinton, Oprah Winfrey, Jim Carrey, Tom Hanks, James Cameron, Morgan Freeman, Bradley Cooper, Gwen Stefani, Quentin Tarantino, Mike Tyson, Shakira, Shaq, Pharell Williams, NSYNC, One Direction, The Backstreet Boys, and many more.
Red Carpet Press Corps:
▶ Super Bowl 50- ESPN Red Carpet: 2016
▶ The GRAMMYs- 43rd, 57th & 58th Annual Awards: 2013-2014
▶ Grammys- Playboy Mansion Citi Gala After Party: 2016
▶ Mayweather vs Pacquiao- Press Conference: 2015
▶ UFC 184- Press Conference: 2015
▶ Sundance Film Festival: 2016 & 2015
▶ The OSCARS- 73rd, 85th & 86th Annual Awards: 2013-2014
▶ 71st Golden Globes Awards: 2014
▶ 19th Critics Choice Awards: 2014
▶ The Billboard Music Awards: 2013
▶ The Voice/American Idol/ The X Factor: 2013
▶ MTV Movie Awards: 2013
▶ MTV VMAs- Red Carpet Arrivals/Press Corps: 2012
▶ Barack Obama USC Political Rally- Media Correspondent: 2010
▶ Michael Jackson Memorial- Media Correspondent: 2009
▶ Los Angeles Olympic Torch Relay- Media Correspondent: 2004
▶ NBA All Star Game- Media Correspondent: 2004
▶ Tournament of Roses- "Music, Music, Music" Media Coorespondent: 2004
▶ NFL Superbowl XXXVII- Media Correspondent: 2003

Specialties: Marketing, Sales, Press, Corporate Communications,Branding, Promotions, Special Event Management, Special Event Production, Entertainment Production, Proposals, Digital Media Marketing, Video Production, Film Production, Video Producer, Commercials, Music Videos, Red Carpet Segments, Video Editing, Social Networking Campaigns, Talent Management, Event Management, Strategy, Content Creation and Distribution, Celebrity Talent, Celebrity Events, and Political Campaigns.
---