Hollywood Fashions benefit Fashion Show "Share A Basket Foundation"
Description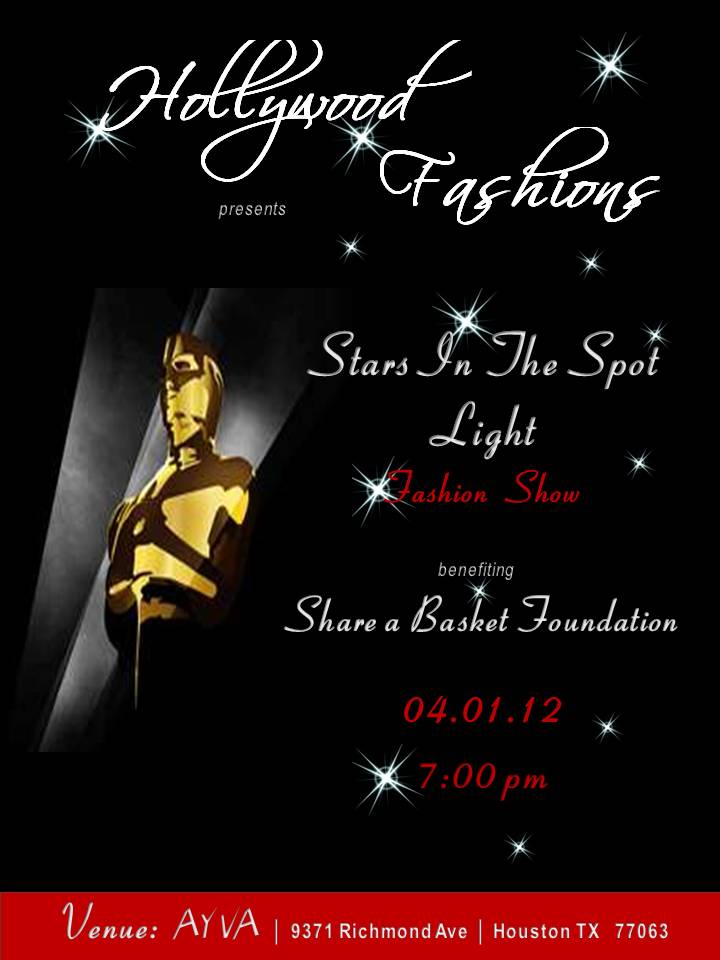 Hollywood Fashions sponsor Fashion Show benefit
for "SHARE A BASKET FOUNDATION"
HOUSTON, TX – Hollywood Fashions will sponsor one of many benefits for the Share a Basket Foundation (SABF) on Sunday, April 1, 2012. This upscale and trendy event will be held at AYVA, 9371 Richmond Ave, Houston TX 77063 from 7:00 – 10:00 PM. The benefit will attract more than 300 prominent business executives and entrepreneurial movers and shakers within the Greater Houston community.
According to Gail Veals, Founder/CEO/Creative Director of Hollywood Fashions said, "Share a Basket Foundation does exciting things for needy families and individuals." She also stated, "That non-profits such as SABF need financial backing to enhance their programs." Ms. Veals is exciting to have Houston's own Ms. NNete from 97.9 The Box to host and the fabulous Kenneth Terry & The New Orleans Jazz Band.
SABF was founded in 1998 and incorporated as a non-profit organization in 2003. Their mission is to promote education, motivation, and assist families with tools necessary to overcome adversity and rebuild through SUPPORT, TEACHING, EMPOWERMENT, and PRAYER (S.T.E.P). Ms Deborah Oliver, founder/CEO is dedicated to helping families heal from the horrible effects of domestic violence. This organization was conceived through a tragic experience Ms Oliver had to overcome, such as, a time of abandonment, dealing with a failed marriage, being stalked, a victim of domestic violence, raped, and suffering from extreme clinical depression; which led to her contemplating suicide. Today, Deborah said, "she is an overcoming and through her personal experience has allowed her to share with other women how they can be victorious through every adversity in their lives."
"Share a Basket Foundation (SABF)" is an IRS recognized 501c3 non-profit organization for the purpose of public charity and education. Each year, the foundation assist victims and their children build a safe environment and produce a lifestyle by offering a range of exceptional services. These services range from ministry, social services, educational outreach, and economic stability.