Hollywood Chills entertainment summit live and virtual!
About this event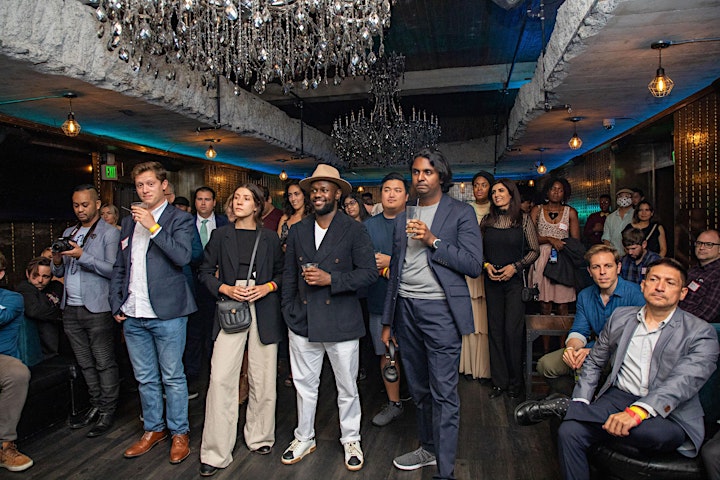 Join us for a series of live and virtual programming featuring noteworthy names in film, television, and music! We're putting you in a room with executives and creatives in the entertainment industry for interviews, Q&A's, and networking.
Live event segment at 7pm takes place at a private event space at 5426 Flemish Lane, Los Angeles, CA 90029. (General Admission is $30 at the door. There won't be VIP tickets available at the door).
This is our next benefit for Inner-City Arts, which offers a safe, creative space in Los Angeles where more than 200,000 children have been invited to create and explore. Inner-City Arts provides quality arts instruction for students from underserved communities, integrated arts workshops for educators, and programming designed for the community.
Live Special Guests (Los Angeles venue): Kicks off at 7pm PST
Gary Leon, A&R, Atlantic Records
Grey Cusack, Director of Development, Columbia Pictures
Deonte' Staats, writer, Showtime's "The Chi"
Evan Anglin (literary manager) & Ray Jimenez (producer/talent manager), Zero Gravity Management - moderated by Cindy Nicole Perez
Erman Baradi, founder of Ermantourage; "top networker in Hollywood"
Ben Phelps, founder/CEO, Emagine Content (management and production)
Katherine Waddell, producer/actress, First Bloom Films. "Dinner in America" (premiered @ Sundance 2020), "Balloon Animal," "We Need to Do Something" (Tribeca 2021) & Em Johnson, director.
Roman Molino Dunn, music producer, "The Card Counter"
Mayhem Entertainment Public Relations clients:
- Danielle Jalade (actress/ "Black Widow")
- Gregg Daniel (actor/ "Insecure")
- Mychal Bella Bowman (actress/ "The Underground Railroad")
-Mitchell Berg (actor / "Side Hustle")
- Daniele Lawson (actress / "King Richard")
-Layla Crawford (actress / "King Richard")
& more to be announced.
Virtual Special Guests (Zoom hangout):
Carlos Aguirre, Vice President of Development, Paramount Television Studios - 10am PST - moderated by Erman Baradi & Valeria Campos
Minoti Vaishnav, staff writer, CBS' "The Equalizer" - 10am PST
Stacy Milbourn, script coordinator, Paramount Network - 10am PST
Fil Eisler, composer, "Outer Banks," "Empire," "Shameless" - 11am PST
Tangelene Bolton, composer, Walt Disney Pictures' "Let's Be Tigers," Walt Disney Animation Studios' "Just A Thought"; additional music, CBS series "All Rise" - 11:30am PST
Gary Yost, founder, WisdomVR Project - 11:30am PST
Gladys Rodriguez, co-executive producer/producer/writer, "Selena: The Series," "Vida," "Sons of Anarchy," "Dynasty," "Star" - 12pm PST (moderated by Cindy Nicoll Perez)
Allyson Newman, board member of The Alliance for Women Film Composers, and Heather McIntosh (composers of "The L Word: Generation Q") - 2pm PST
Flavorlab's Erik Blicker & Glenn Schloss, composers, Disney Plus' "Turning the Tables with Robin Roberts" - 3pm PST
& more to be announced.
Virtual One on Ones (15 private sessions via Zoom): Register to coordinate your 15 minute time slot. You can share meeting with a friend but they must purchase ticket as well.
1. Adam Robitel, director, "Escape Room" franchise. 1-3pm PST
2. Eric Haywood, co-executive producer/writer, "Manifest," "For Life," "Empire," "Power" - 1-3pm PST (hosted by Erman Baradi)
3. Ben Phelps, Manager/Founder, Emagine Content (management and production) - 1:30-3pm PST
4. Jason Lubin, manager/producer, First Story Entertainment - 10am-12pm PST
5. Jill Arthur, Senior Development & Programming executive of Drama Series, Amazon Studios
6. Caitlin D. Jones, casting director; VP of Communications at Casting Society of America; casting associate, FX's "Pose" - 1-3pm PST (hosted by Cindy Nicole Perez)
7. Amanda Row, director, "Star Trek: Strange New Worlds," "Doom Patrol," "The 100," "Nancy Drew" - 3-5pm PST
& more to be announced.
Virtual Roundtables:
-Gary W. Goldstein, producer, "Pretty Woman," "Under Siege," "Mothman Prophecies" -10am PST
-Claytia Gonsalves, staff writer, Disney Television Animation - 4pm PST
-Seth Kaplan, partner/agent, Evolution Music Partners (represents musicians heard on "Creepshow," "Lucifer," "Only Murders in the Building," "American Rust," "Outer Banks," "The Lego Movie 2," "Animal Kingdom," "Nun" -5pm PST
Virtual Table Read: "A Free Man" by Chelsea Harfoush - 1pm PST
-Hollywood Happy Hour: Networking with fellow attendees on Zoom! 5-6pm PST
———————-
Hosted by Erman Baradi and C. Antonio Delgado.
Erman Baradi is a blossoming Filipino American filmmaker, screenwriter, and host from Virginia Beach, Virginia, most noted for founding Hollywood networking platform, Ermantourage. In 2016 at just 26, Erman was featured in The Huffington Post as "a top networker in Hollywood" due to his extensive background hosting and producing film, television, and music panel events that have taken place in Los Angeles, New York City, London, Chicago, Miami, Toronto, and Virginia Beach. Erman co-founded The Film Empire (formerly MixKnowledgy), that, in addition to events, offers a series of film and screenwriting mentorship initiatives featuring notable names in film and television. Erman's passions as a storyteller include bridging entertainment and humanitarian efforts, in addition to being a voice for Asian Americans in cinema. In 2018, Ermantourage began spotlighting and giving back to special causes, such as mental health/suicide prevention endeavors, cancer prevention, and children's art programs. Erman has been featured in The Huffington Post, The Hollywood Reporter, The Manila Times, and more. Erman is managed by Emagine Content and currently resides in Los Angeles.
C. Antonio Delgado is an immigration attorney who helps filmmakers make their dreams come true by connecting them with international investors using creative immigration law breakthrough strategies. There is a natural synergy that exists between international investors and North American filmmaker partners. Mr. Delgado facilitates the international business structures necessary between the filmmakers and international investors.