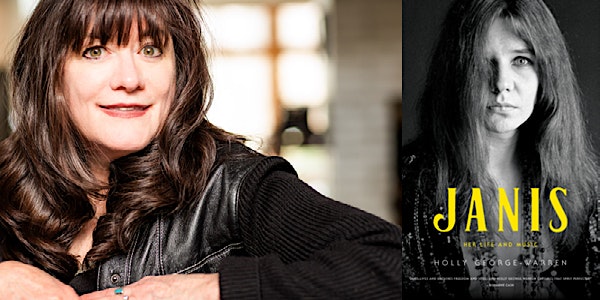 Holly George-Warren - "JANIS: Her Life & Music"
In conversation with Oblong's Dick Hermans. RSVP Requested.
When and where
Location
Oblong Books & Music [Rhinebeck] 6422 Montgomery Street #Suite 6 Rhinebeck, NY 12572
About this event
This blazingly intimate biography of Janis Joplin establishes the Queen of Rock & Roll as the rule-breaking musical trailblazer and complicated, gender-bending rebel she was.
Written by one of the most highly regarded chroniclers of American music history, and based on unprecedented access to Janis Joplin's family, friends, band mates, archives, and long-lost interviews, Janis is a complex, rewarding portrait of a remarkable artist finally getting her due. Janis Joplin has passed into legend as a brash, impassioned soul doomed by the pain that produced one of the most extraordinary voices in rock history. But in these pages, Holly George-Warren provides a revelatory and deeply satisfying portrait of a woman who wasn't all about suffering. Janis was a perfectionist: a passionate, erudite musician who was born with talent but also worked exceptionally hard to develop it. She was a woman who pushed the boundaries of gender and sexuality long before it was socially acceptable.
"I've been waiting for the right person to write the definitive biography of Janis Joplin! All fans should be grateful it's finally here. Janis lives and breathes freedom and soul, and Holly George-Warren captures that spirit perfectly."— Rosanne Cash, four-time Grammy Award winner
Holly George-Warren is a two-time Grammy nominee and the award-winning author of sixteen books, including the New York Times bestseller The Road to Woodstock (with Michael Lang) and the biographies A Man Called Destruction: The Life and Music of Alex Chilton, and Public Cowboy No. 1: The Life and Times of Gene Autry. She has written for a variety of publications, including Rolling Stone, The New York Times, The Village Voice, and Entertainment Weekly. George-Warren teaches at the State University of New York in New Paltz.