About this Event
Join the Holland Bloorview Kids Rehab Hospital Foundation and the Holland Bloorview Catalyst Council on Thursday, February 27th to kick off Capes for Kids Week with a bang! Taking place in the Belgian Moon Brewery at the trendy Stackt Market, and with sponsorship from Bumble and Cottage Springs, we are gathering the city's most influential and charismatic supporters of innovation in pediatric care for an evening of fundraising, awareness-raising, and hype in advance of the Foundation's biggest campaign of the year, Capes for Kids!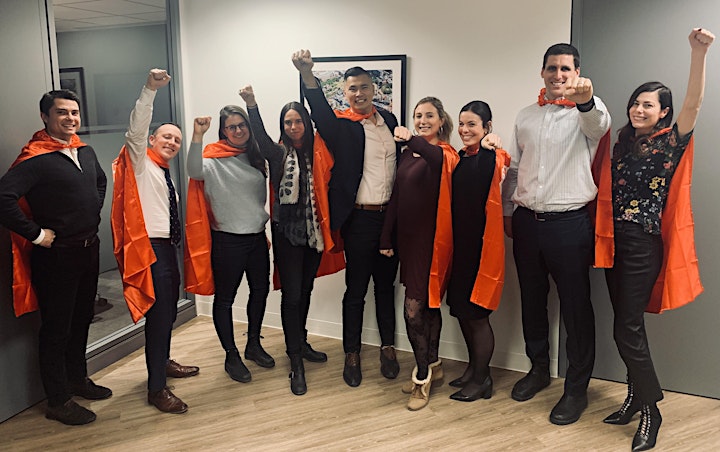 "I'm new to the scene – who / what is Holland Bloorview Kids Rehab Hospital?"
Holland Bloorview Kids Rehabilitation Hospital is Canada's largest children's rehabilitation hospital focused on improving the lives of kids with disabilities. We help kids with disabilities smile, laugh, learn and heal. More than 8,300 kids come through our doors every year with autism, cancer, chronic pain, cerebral palsy, brain injuries, amputation, epilepsy, concussion and other conditions. They want to breathe on their own, become more active, connect with family, become more independent, or just feel less pain.
"What is the Capes for Kids Campaign all about?"
Each March, the community comes together to unleash their inner superhero by putting on a cape and raising money to help kids move, speak, play and heal at Holland Bloorview Kids Rehabilitation Hospital. As Holland Bloorview's signature peer-to-peer fundraiser, Capes for Kids has raised over $1,700,000 for the hospital since its inception in 2017. Keep your eyes open for Capes for Kids supporters around town during the first week of March! They're not hard to find, sporting their flashy, flaming red capes everywhere they go. But you don't need to just be a spectator! Anyone can become a Capes for Kids fundraiser, and after raising $100 they earn a cape of their own.
"Who are the Holland Bloorview Catalysts?"
The Holland Bloorview Catalyst Council is a group of young professionals focused on engaging new individuals and companies to introduce opportunities, ideas and philanthropic prospects to support the hospital's highest priorities. Many groups unintentionally frame the 'Young Professional' designation as an admission of a shortcoming, as though they are acknowledging that their members are 'limited' in some way, and that the group's accomplishments occur 'in spite of' their young professional nature. Conversely, the Catalyst Council's value is defined by their members' youthful energy, drive, and established social presence and networks. As such, the Catalysts have re-branded and re-defined what it means to be a Young Professional. It actually has nothing to do with age; it's about charisma and influence, the twin pillars that define a Holland Bloorview Catalyst.
"As an influential and charismatic Torontonian, I'm quite in-demand on a Thursday evening! Why should I attend?"
Purchasing a ticket to this exciting evening of festivities provides attendees with opportunities and activities including:
• Immediately supporting Capes for Kids and the Foundation; 100% of ticket sales go towards the Holland Bloorview Foundation
• Automatic entry for a chance to win our Door Prizes - a $500 gift card to Winners or Marshalls!
• Exclusive Holland Bloorview Showcases – a selection of ahead-of-the-curve initiatives and big changes underway at Holland Bloorview; these are what your donations make possible!
• Capes for Kids Activation – attendees who have registered as a Capes for Kids fundraiser, and have raised at least $80, can pick up their flaming red superhero cape to wear throughout the event and all through Capes Week!
• Photo Ops – Get your picture taken with your friends and fellow attendees at the Bumble photobooth, or with the various social media reps in attendance. Photo Booth services for the event are being provided by Imagica - Events Reimagined.
• Tickets holders will get a $15 tax receipt
• Access to a network of fun-loving and accomplished professionals who stand as rising stars in their industries, united by their desire to execute on the values and strategic direction of Holland Bloorview Kids Rehabilitation Hospital!
Can't attend but would like to make a donation to the Catalyst Capes for Kids team? Please follow this link to be directed to our fundraising page!