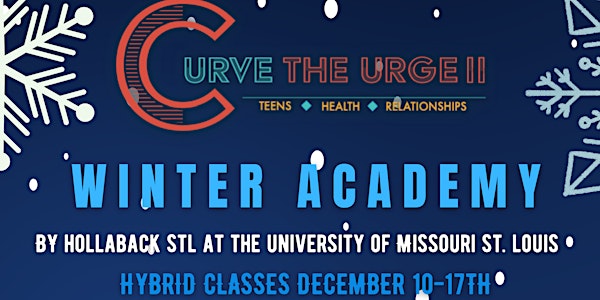 HollaBack STL Winter Academy Curve The Urge II
CURVE THE URGE II is a FREE youth program presented by HollaBack STL and University Of Missouri St.Louis.
When and where
Location
8255 Florissant Rd 8255 Florissant Road St. Louis, MO 63121
About this event
7 days 7 hours

Mobile eTicket
Register for Curve the Urge II Spring Academy !
Reserve your spot for UMSL's newest program, Curve the Urge II !
This event is for anyone who has or has not already participated in Curve The Urge.
This week long Winter Academy begins on December10th- 17th.Participants will meet in person Saturdays December 10th & 17th from 9:00 am - 3:00 pm on UMSL's Campus and virtually Monday, December 12th -16th from 5:00 pm - 6:30 pm.
CURVE THE URGE II is a FREE sexual risk avoidance education program designed to foster healthy and mature relationships. This program includes sessions on dating violence, teen pregnancy & STI prevention, self-esteem development, and success planning. Open to youth ages 15-18 years old.
Program Features
Open to youth between the ages of 15 and 18.
Self esteem development
Dating violence prevention
Success planning strategies
Teaches youth how to establish and maintain healthy relationships.
Teaches youth how to resist the pressure they may experience from peers in regards to sexual activity.
Provides free referrals and linkages to social service agencies.
Free daily meals provided.
$10 gift cards for survey completion. (3 opportunities)
Free Curve the Urge II t-shirt.
Regular prize drawings.
Certificate of Completion.
Provides youth the necessary tools and resources to prevent pregnancy, HIV and sexually transmitted diseases.
Session Dates
Session 1: December 10, 9:00 a.m. - 3:00 p.m. (UMSL CAMPUS)
Session 2: December 12, 5:00 p.m. - 6:30 p.m.(VIRTUAL)
Session 3: December 13, 5:00 p.m. - 6:30 p.m.(VIRTUAL)
Session 4: December 14, 5:00 p.m. - 6:30 p.m.(VIRTUAL)
Session 5: December 15, 5:00 p.m. - 6:30 p.m.(VIRTUAL)
Session 6: December 16, 5:00 p.m. - 6:30 p.m.(VIRTUAL)
Session 7: December 17, 9:00 a.m. - 3:00 p.m. (UMSL CAMPUS)
www.hollabackstl.org
Curve The Urge is sponsored by the University of Missouri - St. Louis | Missouri Institute of Mental Health and the Family & Youth Services Bureau