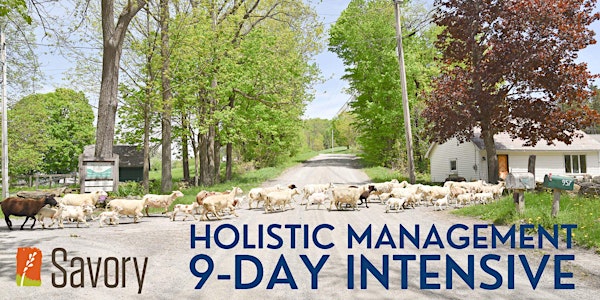 Holistic Management 9-Day Intensive - Become an Accredited Professional
Join us for a transformative 9-day training intensive in Holistic Management. This is the first step in becoming an Accredited Professional.
Date and time
July 21 · 2pm - July 29 · 2pm EDT
Location
Studio Hill 957 Trumbull Hill Road Shaftsbury, VT 05262
Refund Policy
Refunds up to 30 days before event
Eventbrite's fee is nonrefundable.
About this event
Holistic Management 9-Day Intensive at Studio Hill, Vermont
Join us for a transformative experience at the Holistic Management 9-Day Intensive in Shaftsbury, Vermont. This in-person event is designed to help you learn and practice the principles of Holistic Management, a regenerative approach to managing land, farms, businesses, and any other complex system.
Everywhere we look—ecologically, economically, politically, socially—it seems we're looking at disaster. Under a barrage of bad news, it is easy to understand why humans around the globe are suffering from depression, anxiety, anti-humanistic sentiment, and a devastating lack of hope.
But it does not need to be so.
A new and hopeful movement is growing around the globe—one driven by people who refuse to resign themselves and future generations to a terrible fate. Instead, they work to create a new, abundant, and resilient future.
But, to change our trajectory, we must change how me make decisions.
Starting on July 21st, 2023, you'll spend nine days learning how to make decisions holistically. Through immersed in hands-on learning, group discussions, and pasture walks, you'll learn how to create a holistic goal, make decisions that align with your values, and manage enterprises in a way that creates health and abundance.
"Jesse's class and the things I learned in it inspired me very deeply. [Before I took the course], I read the description and thought 'this class is gonna change my life,' and it did. Since learning with Jesse, every time food systems, climate change, and many other big, important topics are brought up in conversation, classes, media, etc. I think about them in connection to regeneration and holistic mindset." - Isabella W.
You will learn:
Fundamental of Holistic Management
The Ecosystem Processes and the Tools to Manage Them
Holistic Decision Making
The Fundamentals of Holistic Financial Planning
Creating Your Holistic Financial Plan
The Fundamentals of Holistic Planned Grazing
Creating Your Holistic Grazing Plan
Designing the Ideal Layout of Facilities for a Grazing Operation
Creating Your Holistic Land Plan
Holistic Ecological Monitoring
The event will take place at Studio Hill in southern Vermont--an accredited Savory Hub and 4th/5th-generation family livestock farm. We will spend our mornings doing our lectures and classroom work at Grange, Sagra's restaurant at Hill Farm in Sunderland, Vermont. Then, we'll travel down to Studio Hill for afternoon education in the fields.
Lodging is available: onsite tent, RV camping, and car camping are free and wecome; indoor accomodations at one of our Studio Hill farm stays may be available and are an additional fee; also Hill Farm Inn (where we're doing our classroom work) has rooms available.
Your instructor is Jesse McDougall--an author, an Accredited Field Professional in Holistic Management, farmer at Studio Hill, an Educator, and a Guest Professor at Bennington College.
"Combining philosophical theory with straightforward technical education, every lesson is multifaceted and the true complexity of the environmental challenges we are working on is well addressed. Jesse moves through the world with a brilliant balance of patience and efficiency, and the results are shown in the ongoing magical progress at Studio Hill Farm. The opportunity to work with the McDougall family at Studio Hill is sure to be one of the highest privileges available to anyone looking to make their dream projects come to life." - Gisele D.
Zero-Interest Financing is available. Please email us directly at hello@studiohill.farm to inquire.
Frequently asked questions
Are scholarships available?
Will I be an Accredited Professional after this course?
What is the weather in Vermont in July?
Do I need previous experience or training to attend?