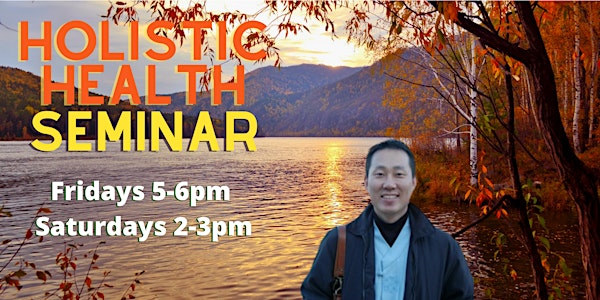 Holistic Health Seminar
Learn practices and exercises to relieve common physical and emotional discomforts in this 1-hour experiential seminar.
When and where
Location
Body & Brain Yoga Tai Chi - Arlington 325 Broadway Arlington, MA 02474
About this event
Do you struggle with chronic back pain? Wish there was a simple way to help improve your sleep quality, or to simply help you fall asleep? How about reducing your anxiety or relieving the tension of a headache?
In this 1-hour experiential seminar you will learn holistic self-healing practices and exercises based on ancient health principles to help address the conditions that are causing you discomfort and stress in your life!
Learn basic health principles to help you recover balance within your body to create relaxation in the physical body and peace of mind.
Meet the Instructor:
Cho Greenwater has guided thousands of people to live a healthy physical, mental and spiritual life through helping them activate their natural healing power. He has been working for over 20 years with Body & Brain Yoga as an instructor, healer, educator and trainer for many spiritual workshops.