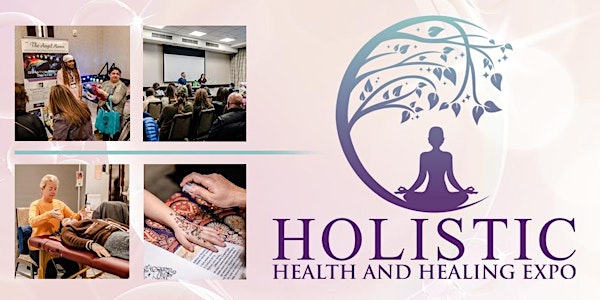 Holistic Health & Healing Expo
Be Part of the Holistic Health & Healing Expo! Connect with like-minded individuals in the holistic health, wellness and green living space
Date and time
Sunday, October 1 · 11am - 5pm EDT
Location
The Westin Mount Laurel 555 Fellowship Road Mount Laurel Township, NJ 08054
About this event
With thousands of attendees and 100+ vendors, we are your go-to resource for natural wellness and green living in South Jersey. You'll have the opportunity to sample products, experience therapies, and learn from experts about the latest advancements in holistic health, mindfulness, spiritual growth and sustainable living space
The Expo's low-pressure, social environment allows you to network with like-minded people and businesses, creating a community and building connections.
The Holistic Health & Healing Expo will offer attendees a chance to learn about:
-Alternative healing
-Eco-Friendly services
-Handmade products: lotions, candles and personal care products
- Healthy Kids
-Holistic practitioners
- Holistic coaching
-Homeopathy
-Integrative medicine
-Intuitive readings & energy work
- Metaphysical & Spiritual Retail
- Mindful movement
-Naturopaths
-Organic Food
-Regenerative healthcare
-Yoga and Pilates
PLEASE REGISTER FOR OUR WORKSHOPS ON OUR WEBSITE www.hhhexpo.com
The HHH expo is dedicated to empowering individuals to live a healthier lifestyle on a healthier planet, educating communities on the latest in natural health and sustainability, inspiring them to lead more balanced lives
Register early and get an event day Tote Bag!
14 and younger are FREE
For more information, contact Shae Marcus at 856-797-2227 or email info@hhhexpo.com or visit us online at www.hhhexpo.com
Frequently asked questions
Whats included in my ticket price?
Will video or photography be taken of me while at the event?
How do I sign up for the workshops?
Where can I find a list of all the workshops that will be going on and the time?
About the organizer
Shae Marcus brings endless energy, passion, and vast exposition organizing experience to the Holistic Health and Healing Expo!

"We have created an event that draws people together wherever they are in their journey to a holistic lifestyle," Shae says. "We are building an authentic community informing, inspiring and nurturing one another while embracing wellness, and strong, spiritual and eco-friendly connections.

With more than two decades of expertise in publishing, and purchasing Natural Awakenings South Jersey magazine, two years ago, was the perfect fit for this dynamo mom of two. "My skill as a publisher and my love for holistic health form an incredible synergy which helps fuel the energy behind this exciting Expo!"

Along with her devotion to her kids, Shae is an avid animal lover who has three rescue dogs—and often, at any given time, one or two foster dogs waiting for their forever homes.

"I believe that Universal and abundant love is available to all of us. And, when we're shown how, each of us has the ability to live that truth out completely and rise to our fullest potential."