Anxiety and stress, we all experience it from time to time.
About this event
Anxiety and stress, we all experience it from time to time. It aids us in certain situations. However, when it becomes chronic, it then becomes a hinderance and effects our mental, physical and emotional wellbeing.
There are 3 types of stresses that affect us.
Physical stress such as broken bones, accidents, wounds or any other trauma to the body.
Chemical stress such as food poisoning, hangovers, Wi/fi, allergic reactions to substances and other things of this nature.
Emotional stress, such as Mortgages, 401 K's working 2 jobs, deadlines, relationship issues, raising children, aging parents and the list goes on.
All of these affect your peace of mind and health of your body.
Here is a list of 7 things you can do help reduce and illuminate stress.
1-Breath- Take a few good slow deep breaths from your abdomen when you are beginning to feel stress show up in your mind/body.
2-movement- dance, take a tai-chi or Qigong class to move your energy. Or simply go for a brisk walk.
3-diet- Change your lifestyle through food and nutrition. Let thy food be your medicine and your medicine thy food. Your gut-brain relationship is imperative to your stress levels.
4-meditation- learn how to relax your mind and become present in the now!
5-nature- reconnect with your soul and spirit by going into nature.
6-purpose- Spend some time alone and journal to discover what your souls' purpose is and live it fully.
7-laugh- A good belly laugh will produce good feeling hormones like oxytocin which will create a healthy mind/body.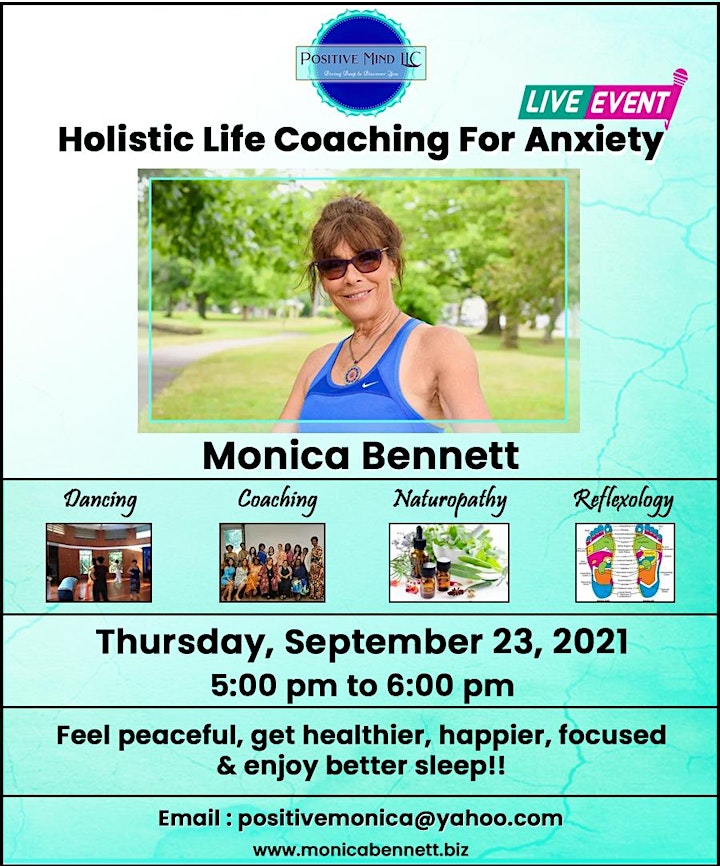 Organizer of Holistic Coaching for Anxiety

Thank you for joining me on Eventbrite - a fantastic tool to connect !
My name is Naini Nakagawa  and I am the founder of Holistic network

matchmyspirit.com

 and a retreats service 

affordableretreats.com

. I organize fun and highly interactive events and retreats and am passionate about bringing people together. Our events are all FREE and community driven. We love to bring in speakers and coaches to share their expertise at our events. Please contact me at matchmyspirit@gmail.com to let me know how I can help . Looking forward to connecting . Please connect on
​ 
Facebook 
​
Linkedin ​Instagram​ and ​Twitter​
Many Blessings & Love to You