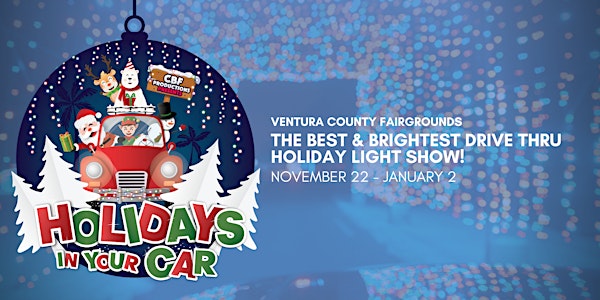 HOLIDAYS IN YOUR CAR -- VENTURA
HOLIDAYS IN YOUR CAR -- THE BEST & BRIGHTEST DRIVE-THRU HOLIDAY LIGHT SHOW!!
When and where
Location
Ventura County Fairgrounds and Event Center 10 West Harbor Boulevard Ventura, CA 93001
About this event
**Holidays In Your Car Drive-Thru Light Show is open and the perfect way to enjoy the holidays safely from the comfort of your car. We are operating under COVID-19 safety protocols in accordance with Ventura County, state, and CDC guidelines. **
HOLIDAYS IN YOUR CAR -- VENTURA -- THE BEST & BRIGHTEST DRIVE-THRU HOLIDAY LIGHT SHOW!!
BUILDING FAMILY EXPERIENCES ONE LIGHT AT A TIME! A Must See TREAT for the entire family!
Discover a symphony of sight and sound at one of southern California's largest Drive-Thru Holiday Light Spectaculars! Experience Holidays in Your Car at the Ventura County Fairgrounds featuring more than ONE MILLION LED lights, Holograms, Projection Mapping, and lasers animated to the tunes of Holiday Classics.
What better way to get out and experience a magical evening with your loved ones? Get in the car and get your cell phones ready. Buckle up & enjoy the dazzling lights from the safety of your own vehicle while respecting social distance rules.
This magical drive-thru journey showcases amazing holiday-themed light displays that are intricately and painstakingly assembled by Santa's team of Elves celebrating the most magical time of the year.
With some displays standing at over 40 feet in height Holidays in Your Car also includes spectacular installations of projection mapping, a technique that involves high-end projectors casting computer-generated images onto sets, arches, and surfaces to create memories that will last a lifetime.
WARNING: Some displays may potentially trigger seizures for people with photosensitive epilepsy. Attendee discretion is advised. We can divert your vehicle to avoid these displays, please be sure to notify staff.
Space is limited. Tickets are ONLY available online and in advance. Your ticket is only valid for DAY & TIME on top of the ticket. Nontransferable to another date.
Each ticket is valid for ONE car and the number of people purchased (Up to 4 people OR 5 or more people). Kids under 2 and in a rear-facing car seat will be free for Holidays in Your Car and do not count towards the number of people.
All Patrons must stay in the vehicle for the duration of the experience. No sitting in the back of trucks or on the roof of vehicles.
All vehicles are subject to search.
No Sprinter Vans, RVs, Busses, Limos or Tours allowed.
Please arrive within your purchased time frame.
No stopping along the route. Please observe the 3 miles per hour speed limit.
If you need to exit the experience in the event of an emergency, please flag down an attendant and they will direct you to the nearest exit.
Please enjoy festivities inside your car and respect social distance rules.
Holidays In Your Car Is A CBF Production.
All sales are final and there will be no refunds.
In the event that the event is cancelled, all tickets will be refunded.
Management reserves the right to refuse service to anybody or to revoke your tickets.
RELEASE AND WAIVER OF LIABILITY AGREEMENT by entering the fairgrounds ALL ("Participant"), acknowledge and agrees to the terms below. Each Person will be participating as a volunteer or participant in the Concert In Your Car Series activities at the Ventura County Fairgrounds premises and facilities (the "Fair"): I AM AWARE OF THE COVID-19 PANDEMIC AND RELATED GOVERNMENTAL ORDERS,DIRECTIVES AND GUIDELINES (COLLECTIVELY "DIRECTIVES"), INCLUDING DIRECTIVES FOR FREQUENT HAND WASHING, SOCIAL DISTANCING AND USE OF FACE MASKS IN PUBLIC LOCATIONS. I AM AWARE THAT THESE ACTIVITIES ARE OCCURRING IN A PUBLIC LOCATION DURING THE COVID-19 PANDEMIC, AND ALSO POTENTIALLY INVOLVE LIVESTOCK OR OTHER FAIRGROUNDS ACTIVITIES, AND ARE THEREFORE HAZARDOUS ACTIVITIES. I AM AWARE THAT I COULD BE INFECTED, SERIOUSLY INJURED OR EVEN DIE DUE TO COVID-19 OR DUE TO ACTIVITIES ON THE FAIRGROUNDS INCLUDING BUT NOT LIMITED TO LIVESTOCK ACTIVITIES. I AM VOLUNTARILY PARTICIPATING IN THESE ACTIVITIES WITH KNOWLEDGE OF THE DANGER INVOLVED AND AGREE TO ASSUME ANY AND ALL RISKS OF BODILY INJURY, DEATH OR PROPERTY DAMAGE, WHETHER THOSE RISKS ARE KNOWN OR UNKNOWN. As consideration for being permitted by the Fair, the State of California ("State"), the County of Ventura(the "County"), and any lessor of the fair premises ("Lessor"), to participate in these activities and use the Fair premises and facilities, I forever release the Fair, CBF Productions (Producer Of Shows), the State, California Fair Services Authority ("CFSA"), the County, the Lessor, and any fair affiliated organization, along with their respective directors, officers, employees, volunteers, agents, contractors, and representatives (collectively"Releasees") from any and all liabilities, causes of action, lawsuits, claims, demands, or damages of any kind whatsoever that I, my assignees, heirs, distributees, guardians, next of kin, spouse and legal representatives now have, or may have in the future, for injury, death, or property damage, related to (i) my participation in these activities, (ii) the negligence or other acts of any Releasee, whether directly connected to these activities or not, and however caused, or (iii) the condition of the premises where these activities occur, whether or not I am then participating in the activities. I also agree that I, my assignees, heirs, distributees, guardians, next of kin, spouse and legal representatives will not make a claim against, sue, or attach the property of any Releasee in connection with any of the matters covered by the foregoing release. I HAVE CAREFULLY READ THIS AGREEMENT AND FULLY UNDERSTAND ITS CONTENTS. I AM AWARE THAT THIS IS A RELEASE OF LIABILITY AND A CONTRACT BETWEEN MYSELF AND THE FAIR, CBF PRODUCTIONS, THE STATE, CFSA, THE COUNTY, AND THE LESSOR.