Description
HOLIDAY SOIREE w. FRENCHIE DAVIS
Intimate Live Performance, Pop-Up Salon Boutique & 2017 Year End Review
The Holiday Season is here! As we celebrate an eventful year, we'd like to invite you for an evening of entertainment, shopping, and sharing your most memorable experiences at the NWKK Holiday Soiree!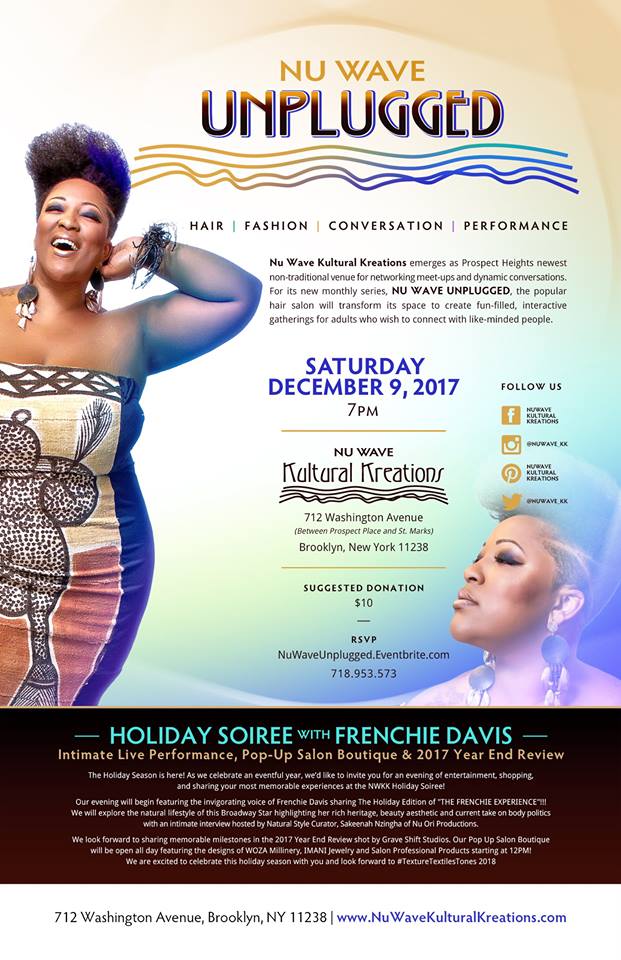 Our evening will begin featuring the invigorating voice of FRENCHIE DAVIS sharing The Holiday Edition of "THE FRENCHIE EXPERIENCE"!!! We will explore the natural lifestyle of this Broadway Star highlighting her rich heritage, beauty aesthetic and current take on body politics with an intimate interview hosted by Natural Style Curator, Sakeenah Nzingha of Nu Ori Productions.
We look forward to sharing memorable milestones in the 2017 Year End Review shot by Grave Shift Studios. Our Pop Up Salon Boutique will be open all day featuring the designs of WOZA Millinery, IMANI Jewelry and Salon Professional Products starting at 12PM! We are excited to celebrate this holiday season with you and look forward to #TextureTextilesTones 2018
NWKK 2017 HOLIDAY SOIREE
12PM – 4PM
POP UP SALON BOUTIQUE
Purchase Holiday Gifts
WOZA Millinery
Imani Jewelry
Salon Professional Products.
7PM
NWKK & NU ADE
"Nurture Your Beauty" Session
Lifestyle Interview w/ Brand Ambassador Frenchie Davis
--------------------------------------------
The FRENCHIE EXPERIENCE
"Holiday Edition"
Vocal Performance by Frenchie Davis
---------------------------------------
MIX & MINGLE
Watch 2017 Year End Review!!
Celebrate a Year marked by Memorable Milestones
------------------------------------------------