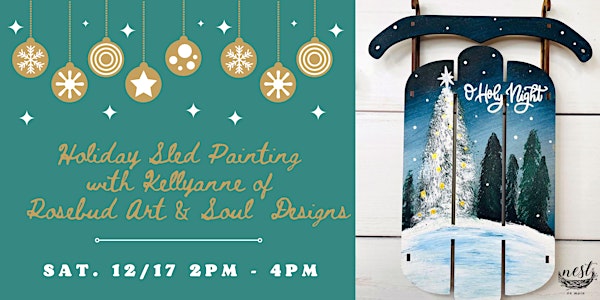 Holiday Sled Painting with Kellyanne of Rosebud Art & Soul Designs
Create a Hand Painted Holiday Themed Sled
When and where
Location
Nest on Main 135 Main Street Northport, NY 11768
About this event
Holiday Sled Painting with Kellyanne of Rosebud Art & Soul Designs is the perfect class to complement your Holiday home decor. Paint a winter wonderland image on a wooden sled while improving your painting skills. Kellyanne will guide you throughout the workshop, and you'll learn what brushes to use for helpful techniques, and much more. These sleds are for decoration purposes only. However, the workshop will bring back sledding memories, first snowfalls, and special Holiday moments.
Kelly enjoys being creative and teaching. She is also a high school art teacher, and what she loves most about her job is inspiring others. Kellyanne was born and raised in Brooklyn, but moved to Huntington, NY, after marrying her husband. Expanding upon her love for education and art, she started her own painting party business. Rosebud Art & Soul Designs specializes in hosting paint parties, from creating memorable evenings out with the girls to bridal parties, baby showers, and kiddie parties.
No Experience Necessary!
*All Art Supplies Are Included *
*We ask that you bring a smock to cover your clothes or that you wear something you wouldn't mind getting some paint on.
Refund Policy: Seating for this class is limited and tickets are nonrefundable. If you purchase a ticket and cannot attend the class, you may find someone to fill your reservation. Please call ahead and let us know. If you have any questions, we're happy to help; store: 631-651-9173.