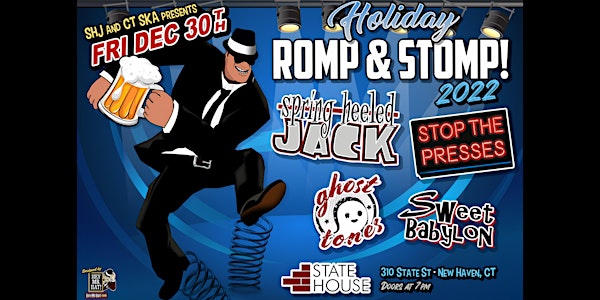 Holiday Romp & Stomp 2022 Featuring Spring Heeled Jack, with Special Guests
UNDER 21 WITH PARENT OR LEGAL GUARDIAN
SHJ and CT Ska Presents
CT Ska and SHJ are bringing the holiday cheer!
When and where
Location
The State House 310 State St New Haven, CT 06510
About this event
3 hours

UNDER 21 WITH PARENT OR LEGAL GUARDIAN

Mobile eTicket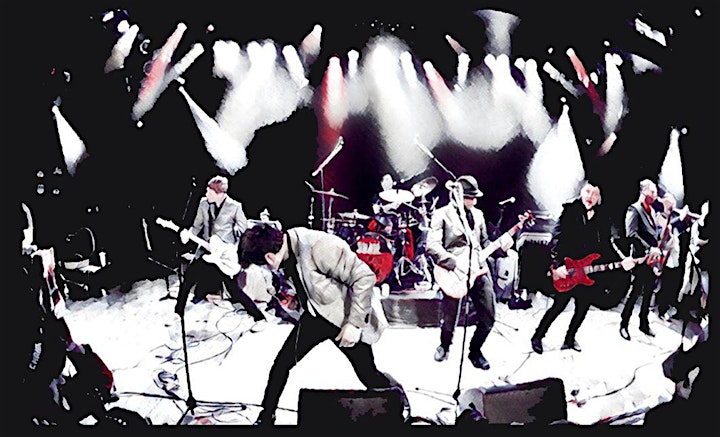 Spring Heeled Jack
"Any ordinary band would have given it up by now." This has become the motto of Spring Heeled Jack. A band that amazingly is still together writing vibrant and compelling music from the heart( with soul) and putting on killer live shows like they just started yesterday.
SHJ from 1992-2000 released three albums "Connecticut Ska, "Static World View" (Moon Records) and "Songs From Suburbia"(Tommy Boy/ ignition ). In this time they played about 2500+ shows all over the US, Canada and Puerto Rico. As well as playing dates on such high profile festival tours such as Warped and Lalapalooza.
SHJ was and continue to be a foundation of the CT scene, as well as a prominent fixture of the ska, punk, alternative underground throughout the world . Over the years SHJ has been featured on several music shows MTV's 120 Minutes, HBO Reverb, Spin's Access Channel and VH1 to name a few.
After disbanding in 2000, SHJ has reunited in different combinations.( always with the the double attack of lead singers/ guitarist Ronnie Ragona and Mike Pellegrino ) Recently coming together with an updated lineup of seasoned vets, SHJ has written and self released a new album "Sound Salvation". The songwriting is strong with plenty of hooks and well crafted arrangements. The lyrics are fresh, the vocals and harmonies are both energetic and melodic. These new 11 songs may be the best we've ever heard from SHJ.
In the interim SHJ's members have been busy playing with or started some other established bands. Ronnie Ragona- vox/guitar (Lost City Angels, The Murder Mile). Mike Pellegrino -vox/guitar (Cenzo, Lord Fowl). Tom Quartulli -sax (Barrence Whitfield, Dark Buster, Kings of nuthin ). Vinny Nobile -trombone (Bim Skala Bim, Pilfers), Nick Bacon -keys(The Adversaries, Pilfers), Eric Brisman -trombone (Allstonians, Bim Skala Bim), Corky Evans-drums/vox (The Adversaries), Pete Glowacki-bass (Waltham).
Adopting the model: "stronger together than individually", SHJ is better than ever impressing newcomers and the old school fans alike . Look for Spring Heeled Jack and their lively and dynamic brand of Ska-Rock-Soul at upcoming festivals and clubs near you.