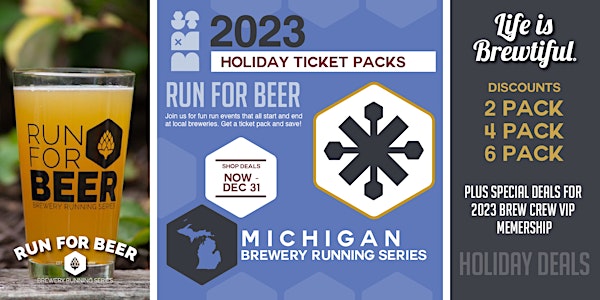 Holiday Pack of Events - 2023 MI Brewery Running Series
Get a GIFT PACK of events for 2023 and join the beer run fun!
About this event
56 days 6 hours

Mobile eTicket
Purchase a package of events and join in the beer run fun!
GET a GIFT PACK of Events for 2023:
This purchase gets you a package of Events of your choice in the 2023 Brewery Running Series seasons!
We will be at some of your favorite breweries, representing some of the best the local craft beer scene has to offer. You can expect good times, great friends, and amazing beer! 
Why buy now? This bundle offer will be made available only at limited times, and because you're buying a package, we'll give you a deal!
Perfect to share - This deal can be distributed to you and your beer running buddies! You will get a code valid for your purchased quantity of registrations, you can split them up however you like. Don't want to share? That's ok too ;-)
Buddy Pass - This is a great way to bring some friends with you on your runs! They will be signed up for a regular registration for the 5k with you! They will get the swag and beer too!
Special Food and Beer Dinner - To be held at Brown Iron in January just for our runners! This dinner includes 4 courses and specially selected beer to go with each course. Attendees will also get a special Brewery Running Series item! There are a very limited number of these available!
Brew Crew - These special tickets get an additional $5 off registration plus a second beer at each run!
Check out our website for more info and COVID related event updates - www.breweryrunningseries.com
Sorry, No Refunds. 
WHAT'S INCLUDED:
Your selected quantity of entries to 2023 events - standard entry - you get 1 free beer, 1 collectors pint glass or a seasonal swag item (you pick!), and access to all the event festivities (fun from community partners, freebies, chance to win door prizes, live music and food trucks)
HERE'S HOW IT WORKS:
Purchase your desired package 
We will send you a code that will allow you to register for your selected quantity of Brewery Running Series events, valid for the 2023 season. Codes will be distributed via email to the purchaser. 
Visit the Brewery Running Series events page: www.breweryrunningseries.com
Choose the event you want to enter and click "Tickets".
Put in your code where it asks for "Enter Promotional Code" and join in on the fun.
Your code will be good for your selected quantity of entries to any 2023 Brewery Running Series event - use them however you'd like! 
RULES AND REGULATIONS:
Codes will be distributed via email to the purchaser. Once you receive your code you can register for events whenever you'd like, for any event that still has tickets available!
Unused codes will expire at the end of the 2023 season.
Sorry, No Refunds.
WHO WE ARE:
The Brewery Running Series is about inspiring our community to be active, have fun, and give back. We host untimed, family-friendly fun run events that start and end at local breweries.
Participants walk, jog, or run and then drink beer! Everyone is invited to enjoy the day's entertainment: live music, great food, giveaways and activities with partners and sponsors. Registered participants receive 1 free craft brew, and a collectors pint glass or seasonal swag item and all the FUN! 
A portion of all proceeds goes back to local non-profits.
ABOUT THE EVENTS:
This may be different than other "races" you've done. We like to keep things relaxed, and all of our events are untimed so everyone can run or walk at their own pace. Instead of closing down the streets, we ensure a safe and fun running route on sidewalks, through parks, and along trails. The course is staffed with encouraging volunteers to cheer you on and point you back to the brewery for your much-deserved beer!
EVENT DAY DETAILS:
Please arrive 30 minutes before each event starts to get checked-in.
Bring a valid ID. You do not need to be 21 to enjoy the event, but must be 21 to enjoy the beer. Please drink responsibly! (Registered, underage participants receive a complimentary non-alcoholic beverage).
These are open courses, meaning roads will NOT be closed. You are responsible for obeying all traffic laws and regulations.
We run rain or shine! Dress appropriately for the weather.
There will not be a bag check; please plan accordingly.
Bring extra money if you want to purchase food, more beer, or any of our great Brewery Running Series merchandise!
CHEERS TO BEERS AND SEE YOU AT OUR UPCOMING EVENTS!