Description



Join Us for Our Annual Holiday Networking Mixer

We are taking a quick break from our seminar series for an end-of-the-year Holiday Networking Mixer.
Join startup founders, creatives, students, faculty, staff, forward thinking individuals, and problem solvers to unwind and celebrate the season. It's guaranteed to be a fun evening of collaboration, idea sharing, door prizes, and free refreshments. The evening's activities will also include a pinning ceremony for the latest cohort of UNH University Innovation Fellows to celebrate their work on campus empowering fellow students to be agents of change.

All are welcome. Please extend the invitation to coworkers, employees, students, vendors, and partners.
Attendees must be 21+ to partake in any alcoholic beverages.


When:
Thursday, December 14th
4:30 PM – 6:30 PM
Where:
UNHI Co-Working Space
21 Madbury Road, Durham, NH
Attendees can enter through the entrance closest to the Pettee Brook parking lot and follow the signs to the event.

---
Our Generous Sponsors:

Sponsorship opportunities available! Contact unh.innovation@unh.edu for more information.
---
Event Location:

UNHInnovation Co-working Space located at 21 Madbury Road, Durham, NH. Attendees can enter through the entrance closest to the Pettee Brook parking lot (see the image below) and follow the signs to the event.

Attendees may park along Madbury Road, Pettee Brook Lane, and Main Street. Parking is metered until 6:00 PM and is strictly enforced. The first hour is free in many lots, HOWEVER, please make sure a ticket is displayed in your vehicle before leaving.

For additional parking guidelines, please visit the UNH Parking website.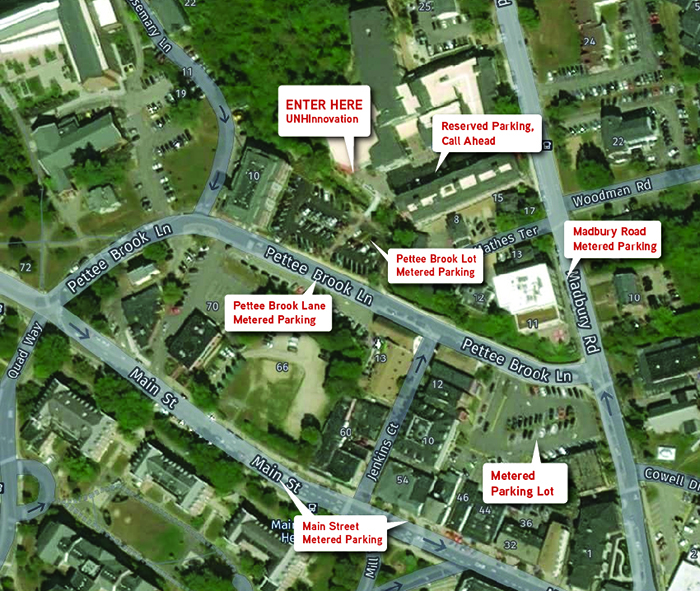 Fall 2017-Spring 2018 Wildcatalyst Seminar Series: Launching (Research-Based) Start-Ups

The Wildcatalyst Seminar Series, hosted monthly during the academic year, is open to all and designed to be a meeting place for innovators, entrepreneurs, service providers, and anyone else interested in how the innovations of today represent the essential products and services for tomorrow's needs.

This year's Wildcatalyst Seminar Series theme is "Launching (Research-Based) Start-Ups." Our aim is to demystify the start-up process and explore the opportunities, challenges, and pitfalls of launching a business by hearing about real-life successes and failures straight from the innovators and entrepreneurs.

While the general topics will be universal to all entrepreneurial-minded individuals, there will be an emphasis on starting a business around university research-born innovations and we are excited to explore this intersection of entrepreneurship and research. Each seminar will be led by experienced dreamers and problem solvers who have successfully launched businesses based on university-owned intellectual property, including the researchers who develop the IP and their industry partners who bring it to market.