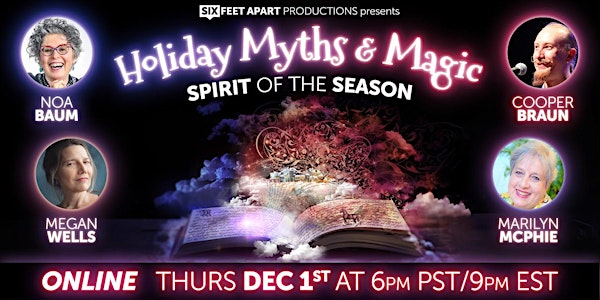 Holiday Myths & Magic
Capture the magic of the season with an evening of tales told in the holiday spirit.
Refund Policy
Contact the organizer to request a refund.
Eventbrite's fee is nonrefundable.
About this event
The show will stream live on YouTube and your ticket allows you to stream anytime afterwards on any continent. Want to be in the Zoom room with our storytellers? Be part of the live virtual audience with our Backstage Pass ticket options. Please note: Unfortunately, Regi Carpenter is sick and the wonderful Megan Wells has stepped in to tell a story in her place.
Emcee: Claire Hennessy
Cooper Braun was raised by granola eating coyotes in Boulder Colorado. He was awarded the 2018 JJ Reneaux Emerging Artist and the 2022 Regional Excellence awards by the National Storytelling Network. Cooper's stories remind us that fairy tales were never just for children. In the last two years he has become one of the leading producers of virtual storytelling shows. https://www.cooperbraun.com/
Marilyn McPhie has been telling stories professionally since 1985 and has performed for groups from preschool to adult, from Massachusetts to California. She has told stories for assemblies, classes and festivals, has lectured for several colleges and universities and has performed for schools, libraries, museums, civic and church groups and corporate and private gatherings. She has directed a troupe of student storytellers and has written reviews for national storytelling and parenting publications.
She is the President of the Storytellers of San Diego and recent Pacific Region Director for the National Storytelling Network. She has a degree in English and French literature and lives in San Diego, California in an area known as Penasquitos, which means "little bluffs" -- an appropriate home for a storyteller. http://www.marilynmcphie.com/
Megan Wells is a respected and experienced story and theater artist. She is known for creating an intimate storytelling atmosphere, infusing her characters with living souls, and delivering the experience with delicious theatrical timing. An award winning storyteller, Megan performs in museums and symphonies, enhances education for thousands of children, entertains families in festivals and libraries, and helps executives, actors, and storytellers craft powerful stories to effect change. Megan is also among the top literary storytellers in America. As the Artistic Director of the Ray Bradbury Storytelling Festival, Megan was granted permission by Ray himself to perform his works. Additionally, she is equally comfortable in the jazzier domains of Chicago's current spoken word explosion. www.meganwells.com/
The Washington Post describes Noa Baum as someone who "spreads cultural truths that eclipse geopolitical boundaries...". Noa is an internationally acclaimed storyteller, author, and coach. She uses mesmerizing voices, impeccable timing, and warm authenticity to captivate audiences of all ages with stories from diverse cultures and her own rich Jewish heritage. Noa offers a unique combination of performance art and practical workshops that focus on the power of narrative to heal across the divides of identity and build bridges of understanding and compassion. https://noabaum.com/