Description
Get ready for a Sunday of champagne and hands-on glam! You, me, and nine other ladies will get ready together from beginning to end. This intimate, adult group setting will allow us to comfortably learn and discuss beauty without the typical rush and noise of retail stores. What's so different about the OwnYourGlam way? I will be doing everything, step by step with you. It's one thing to watch someone do makeup on a model, or on video, or to receive verbal instructions; it's an entirely different story when you can see up close how to properly execute it. You will have a front-row seat to how to position the brush in your hand to get that perfect blend, how to angle your hand-held mirror to effortlessly apply your falsies, and how to tilt your head to expertly apply your eyeshadow, among many other things. This small group setting will also allow us for some one-on-one instruction as I will be going around making sure you are nailing the technique. I believe in being set up for success which is why you will be provided with the necessary tools to achieve the perfect holiday glam: This gift bag valued at $100 will get your holiday season started with a BANG! #treatyoself
It gets even better: There will be two fabulous giveaways during our class! Your ticket gets you entries to both giveaways and if you get any friends to sign up, you get additional entries for each friend that signs up! Tell your mom, your sisters, your coworkers, and your friends! These giveaways, like the gift bag, will BLOW. YOUR. MIND.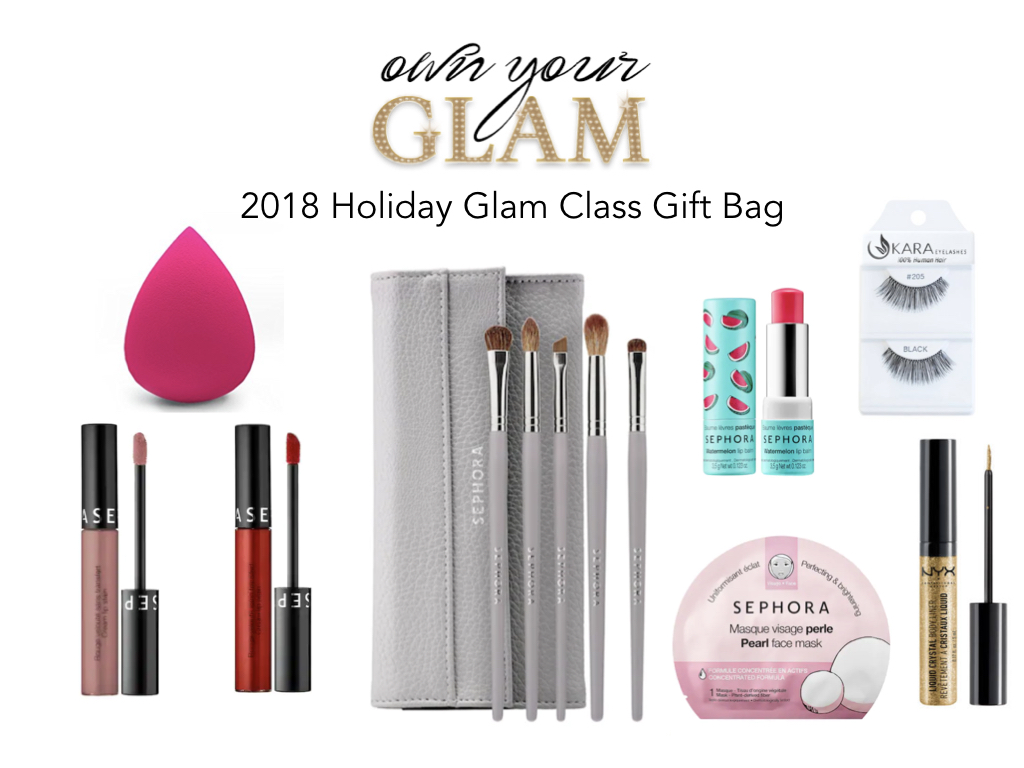 WHAT YOU WILL LEARN
Skincare for flawless makeup: The magic starts here. We'll all cleanse our faces & mask together while we discuss the DO'S and DON'TS of skin preparation for a flawless complexion and makeup that lasts.

Proper priming & setting for sweat-proof & humidity-proof makeup that lasts 14+ hours.

Smokey holiday eyes: Step by step eyes in the colors and intensity of your choosing.

Winged liner vs. smoked liner: Which one looks best for your eye/bone structure.

How to apply glitter without looking like a five year-old.

False lash application: Learn all the pro tricks for a drama-free falsie application.

Flawless foundation: We'll discuss formulations, coverage, finish, and proper application for the skin of your dreams.

Concealing & correcting: The art of natural camouflage.

Contour & highlight: Learn to expertly manipulate light and shadow to showcase your unique bone structure.

Perfect lips: Learn the secrets of the pro's for a touch-up-free pout.

Better brows: How to frame your pretty face.
WHAT TO BRING
The goal is for you to learn how to expertly use what you already own and to help you identify what you need to take your glam game to the next level. The items marked with an asterisk * are essential for this course. The non-marked items I can provide if you don't own any. Also, feel free to bring whatever products you already use and love even if they're not on the list. Missing any essential items? I'm happy to jump on a call to recommend the best products for you! Feeling overwhelmed? This class is specifically tailored for YOUR needs. If you don't use foundation (lucky you!), then there's no need to bring any even though it's an essential item.The same applies for all items except the eye products since we'll be focusing on holiday eyes.
Skincare products if you have sensitive skin*

All your complexion brushes (foundation, powder, contour, blush)*

Foundation primer

Foundation*

Under-eye concealer*

Blush* and/or bronzer

Setting powder & setting spray

Eyeshadow palette of 3 or more colors or whatever individual eyeshadows you already own*

Black or brown pencil eyeliner*

Black liquid or gel eyeliner

Mascara*

Eyebrow tweezers*

Powder or cream contour*

Highlighter

Brow pencil/powder/gel*
LETS GLAM!
Only 10 seats available!
Champagne + canapés will be served.
QUESTIONS? Lets chat! OwnYourGlamMiami@gmail.com / 305-910-7730