CUSO continues our annual holiday tradition with this magical concert for the whole family!
About this event
Holiday Magic: Thursday, December 10 | 7:30 p.m.
Music for Brass Quintet, Strings and Voices
Carl Alexander, countertenor
Katelyn Lee, soprano
Maria Arrua, violin
Central Illinois Youth Chorus, Andrea Solya, Conductor
University of Illinois Oratorio Society, Andrew Megill, Conductor
CUSO continues our annual holiday tradition with this magical concert for the whole family. Enjoy the sublime sounds of Vivaldi, beautiful carols, stellar voices, and brilliant brass. The soaring soprano voice of Katelyn Lee performing Vivaldi's sacred music will bring a quiet joy. Countertenor Carl Alexander returns to perform the moving "Sweet Little Jesus Boy" with CUSO. Concertmaster Maria Arrua helps to usher in chilly weather with "Winter" from Vivaldi's The Four Seasons. Enjoy the regal sounds of our brass quintet performing Carol of the Bells. CUSO is delighted to host the angelic voices of the Central Illinois Youth Chorus, joined by singers from the Oratorio Society, for a magical performance of Dona nobis pacem. As always, Santa will be stopping by to take us on a Sleigh Ride!
LEONTOVICH arr. MCNEFF: Carol of the Bells
arr. FRY: Go Tell It On the Mountain
VIVALDI: "Laudate pueri" RV 601
VIVALDI: Violin Concerto in F Minor ("Winter" from The Four Seasons)
VIVALDI: "Laudamus te" from Gloria
arr. NAUGHTIN: Bell Carol/In dulci jubilo
MACGIMSEY arr. FRY: Sweet Little Jesus Boy
ANDERSON: Sleigh Ride
MOZART: Dona nobis pacem
arr. SNEDECOR: We Wish You a Merry Christmas
Enjoy the Holiday Magic concert from the comfort of your home. The video will be streamed on Thursday, December 10 at 7:30 p.m. The concert will be available for 72 hours through Sunday, December 13.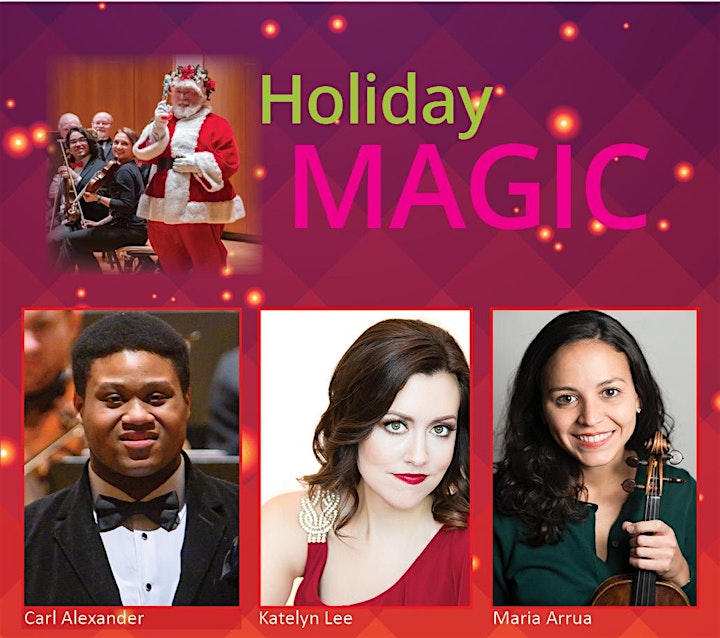 Date and time
Location
Refund policy
Organizer of Holiday Magic Concert
Founded in 1959, the Champaign-Urbana Symphony Orchestra has a proud history made possible by extraordinary community support. Over the years, CUSO has performed more than 350 concerts and showcased the talents of hundreds of local, professional musicians, bringing the magic of music to audiences of all ages. Under the leadership of Maestro Stephen Alltop, CUSO continues to achieve performance excellence and has earned a distinguished place in the musical life of our community.
CUSO's 2021-22 season, "The Music Returns," is a celebration of gratitude for the joy of live performances. Hear the full orchestral sound of music you love as CUSO kick off the 62nd season with a pops concert at the I Hotel's Heritage Hall on September 12. It's a great way to spend a Sunday afternoon with your family. On November 6, join CUSO for "Baroque Brilliance" and enjoy the profound beauty of some of Baroque music's "greatest hits." CUSO returns to Krannert Center's Foellinger Great Hall on December 9 to perform our popular holiday concert, where Santa always stops by to conduct Sleigh Ride. To find out more about all of the season concerts, visit the CUSO website at www.cusymphony.org. Join CUSO for these extraordinary musical experiences!