Description
It's time again for the Carmel Holiday Lights Run!

Join the runners who brave the dropping temperatures for a 3-mile fun run to take in the sights of the holidays in Carmel. Come back to the store for warm treats, refreshments and chance to win great prizes. This is an event you don't want to miss!

Think you are a fair weather runner? Have no fear of the cold we have just the right gear for you. Experience Mizuno Breath Thermo tops and jackets. We have tops and jackets for both men and women in all sizes for everyone to wear on the run.

What's Breath Thermo?
Breath Thermo is Mizuno's exclusive fabric knitted into cold-weather apparel which does double-duty: pulling moisture away from your body and converting it to heat, so you can wear less and still stay warm.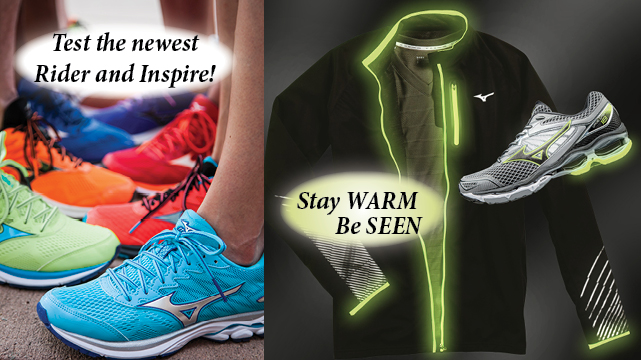 Meet at the store between 5:30 and 6:00. We have a dressing room and bathroom for those coming straight from work and would like to change in the store. Leave anything you don't want to take on the run at the store. It will be safe.

For the Run:
Come early to be sure to get the Breath Thermo gear in your size. We will also have the newest version of the Rider and Inspire.
We will have several Runner's Forum staff running at all paces. No one will be left behind. All ages are welcome. There will also be a map or instructions on the route.
It is important to stay safe. All runners are required to have visibility gear (some type of blinky or additional light source or visibility vest on them during the run). All Nathan visibility gear is We 15% off with the coupon below. Stop by any of our stores before the run to get your lights and reflective gear.

Post Run Social
Return to the store after your run for winter treats and refreshments. Everyone will get a chance to win prizes. Register to improve your odds! $$$ Win Gift Certificates $$$