Description
Give the gift that keeps on giving! We offer 2 types of classes

Refined Cook Culinary Series (21 yrs. and older): Choose from any of our fun and delicious cooking class social events, from authentic Asian to Vegan classes, many of which are gluten-free! 4-6 participants/class. BYOB. For class descriptions and dates, visit: www.refinedcook.com/classes. $95/participant

No More Ramen! Cooking Classes for Young Adults (18-28 yrs. old): Geared towards young adults who want a practical, hands-on approach in the kitchen, this 4-hour class covers fundamentals of cookery starting with safety and hygiene, basic knife skills, use of kitchen tools and gadgets, and some basic cooking processes which will be used in preparing five dishes. 2-4 participants/class. For more info, visit: No More Ramen! classes $125/participant
Gift certificates will be emailed to you as an attachment with the recipient's name which you can print or forward to your loved one.


Sample gift certificate: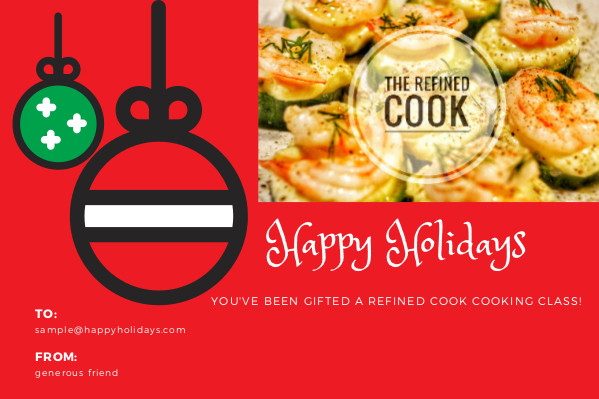 1. Select quantity.
2. Fill in billing info.
3. If you want us to include Recipient's name on certificate, you will be prompted to fill in info. Otherwise, we will leave the To and From fields blank on your pdf.
4. After payment, you will receive a confirmation email.
5. Allow 24-48 hours to process and you will receive your email with gift certificate attachment.
6. If you are purchasing gift certificates for 4 or more people or for private groups, please contact us.

Gift certificates are valid towards any Refined Cook class within class type (Culinary series or No More Ramen!) and expires Dec. 31, 2019. Contact us for any questions. Happy shopping!
www.refinedcook.com