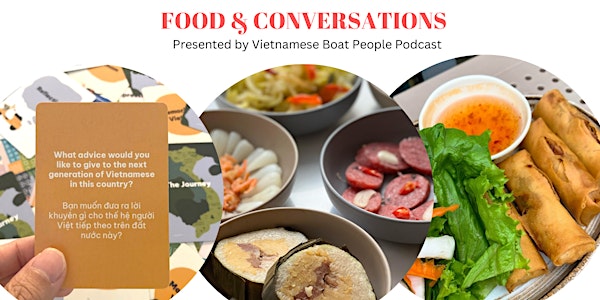 Holiday Gathering: Food & Conversations
Introducing our first of a series of 'Food & Conversations' presented by Vietnamese Boat People.
When and where
Location
Em Vietnamese Bistro 57 Front Street Brooklyn, NY 11201
About this event
Join us for a VBP holiday gathering!
In Vietnamese culture, food is at the core of family gatherings. It brings us together, connects us and provides a warm atmosphere in which conversations and stories begin. It is the 'love language' of our culture.
Come join us for an intimate dinner to learn more about Vietnamese Boat People and our mission to preserve the stories of the Vietnamese diaspora community. We will share details on how you can participate to share your family's stories through the VBP Journeys collective, the VBP Podcast and other programs.
Plus, there will be fun activities using the VBP Conversations cards to help spark some story sharing with others in the community. Come with family members or friends and get to know them a little better! This is an opportunity to hear more stories from older generations. Bring a grandparent/parent/aunt/uncle/friend/neighbor (a senior citizen) and their admission is free!
This event is co-hosted with Em Vietnamese Bistro located in 57 Front St, Brooklyn, NY 11201
Each event ticket includes:
delicious Vietnamese dinner (cash bar for drinks)
a complimentary ticket for a senior citizen guest of your choice. Please make sure to include this person's name at time of ticket purchase. We will not be taking walk-ins on event day.
A sample set of cards from the VBP Conversation Kit and 10% discount on a future purchase of the VBP Conversation Kit
Chance to win a gift basket of goodies - VBP swag, books, Vietnamese products and more! (raffle drawing will be at the event)
Your support in helping us preserve stories of the Vietnamese diaspora
Space is limited and ticket sales will close once we hit capacity.
Special thank you to Asian Women Giving Circle for supporting our mission to record more stories from our community.
About Em Restaurant Bistro
Em Restaurant Bistro is owned by husband and wife duo, Patrick & Ly. The story of Em begins with the story of our Chef, Ly Nguyen. Chef Ly grew up on the outskirts of an idyllic small town in Khanh Hoa, Vietnam, about 50 miles north of the Nha Trang. Raised on a farm where jungle, mountains, rivers, and the ocean met, young Ly adored her family's fruit trees and delighted in dining on the bounty of the sea. Her family still jokes that you can leave a suitcase full of money with Ly and you won't find a dollar missing, but if you leave her unattended by a fruit tree it's going to be picked clean.
About Vietnamese Boat People
Vietnamese Boat People (VBP) is a podcast and non-profit with the mission to preserve and carry forward the stories of the Vietnamese diaspora. The organization seeks to educate and inspire listeners on the diaspora history of Vietnamese Americans and evoke more empathy towards the millions of refugees around the world today. In addition to the podcast, our public programs empower people to preserve their own stories through storytelling workshops and events, story slams, community blogs, conversation kits and journey mapping. The work of VBP helps to lift up new voices and shine a light on untold stories from the Vietnamese diaspora community.