Description
Join the Southwest Michigan American Institute of Architects and Kalamazoo/Battle Creek Chapter
of the National Association of Women and Construction for a holiday dinner and networking event!
· Date: Wednesday, December 20, 2017
· Time: 5:30 p.m.
· Location: Casa Bolero on Portage St., Kalamazoo
· Cost: $30 (+ $2.23 ticket fee)

CONTACTS: AIA: Doug Milburn (269) 350-0942
or NAWIC: Suzanne Grix (269) 364-1917


Agenda
o 5:30 – Gather, guacamole and salsa bar
o 6:00 – Buffet dinner served, chicken/steak/black bean fajitas
o 7:00– Optional NEF Ornament Exchange (bring $10 and a wrapped ornament to the event to participate—all proceeds to go to the NAWIC Education Foundation)
o 8:00 – Adjourn
---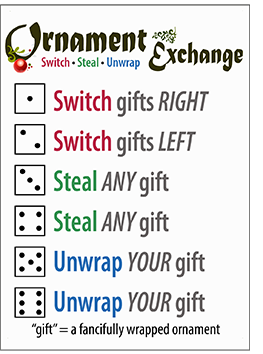 Holiday ornament game of "Switch • Steal • Unwrap"
Rules: Each attendee brings a wrapped ornament. At the event, each person who brought a wrapped ornament pays $10 to play a dice game.
The proceeds benefit the NEF (NAWIC Education Foundation). Founded in 1972, NEF has enacted several programs and contests created to foster and promote construction as a viable career choice among young people from grade school to high school. Locally, the NAWIC Chapter participates in the annual Block Kids Lego contest for grades K-6 and the CAD|Drafting and Design program for high school students.